The Whinlatter Pass is a mountain pass at an elevation of 317m (1,043ft) above the sea level located in the English Lake District. It's the northernmost road pass in the Lake District.
Located in South Yorkshire, England, the Jenkin Road is said to be the one of the steepest roads in the UK with a 33% maximum gradient.
A new analysis of government data taking into account crash sites across the UK for motorcyclists has established the most dangerous roads in the UK and where to watch out for, especially if you're exploring the country on a bike in the near future.
Located in the north east of the island, Snaefell Mountain Road is a leading motorsport destination in the Isle of Man.
Spur Battery is an artillery battery at an elevation of 334m above the sea level located in the British Overseas Territory of Gibraltar. It was built in 1902.
Ghosts, phantom hitchhikers, strange beings, and other unexplained phenomena… If you prefer your road trips with a serving of scary stories, find out the Britain's most haunted road.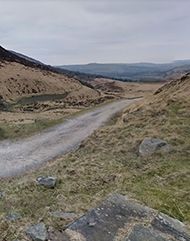 Chew Reservoir is a reservoir at an elevation of 1,600ft (488m) above the sea level, located in Greater Manchester, England.
As the public has become more aware about the dangers of certain roads, charities and insurance companies have been using government data to create reports of accidents and finance studies to find out which roads are the most hazardous. What they have found will continue to prove useful as the public learns which roads to be the most careful on.