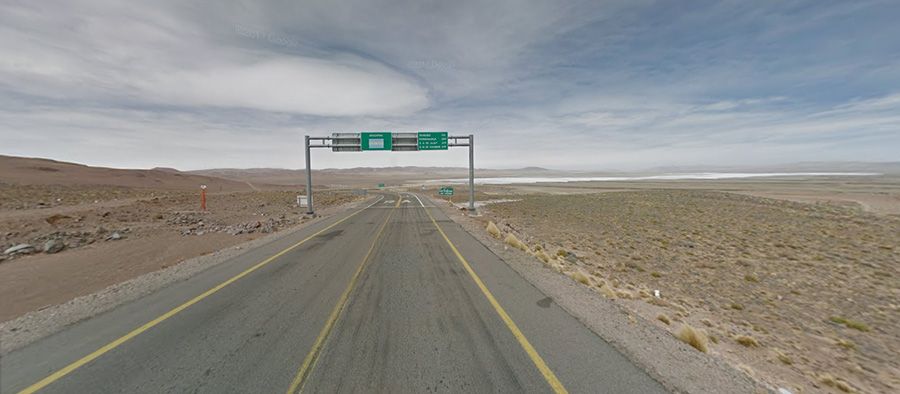 The Paso de Jama is an international high mountain pass at an elevation of 4.320m (14,120ft) above the sea level, located in the Andes between Chile and Argentina. It is the northernmost road border crossing between the two countries. It's one of the highest roads of the country.
The pass is asphalted and traversed via Chile by Route 27 and via Argentina by National Route 52. On the Chilean side, the road reaches an altitude of 4.810m (15,780ft) 100 km west of the border. The pass links the city of Jujuy in Argentina with San Pedro de Atacama in Chile. Most of the road from San Salvador de Jujuy to Jama, including the occasional down slopes, is uphill. The pass is located 349 kilometres from San Salvador de Jujuy. After crossing the pass there is still a trip of 160 kilometres till the Chilean town of San Pedro de Atacama. This last part is on a very firm road and downhill.
It is used by truck traffic between northern Argentina and Paraguay and the ports of northern Chile. The road was opened on 6 December 1991, and is paved throughout since the year of 2005. This pass has close access to the landmark that links Chile, Bolivia, and Argentina, and about 160 kilometers (100 miles) from its border in Chile, after passing through sectors of the Los Flamencos National Reserve, is the town San Pedro de Atacama. This pass is permanently enabled for all types of vehicles.
Due to the unique location and the climb in elevation over thousands of feet, and passing through remote areas, it is important when driving in these conditions to be prepared. Daytime temperatures will reach up to 30 °C, while at night temperatures will tend to drop very low, even below freezing point in winter. There are often also b winds in the area. Remember that you will be crossing the Andes, travelling through a semi desert area with few people and will be travelling at an average height of 3000 m.a.s.l Take along warm clothing to wear when necessary. To avoid feeling ill do not eat in excess before you go up into the high mountains.