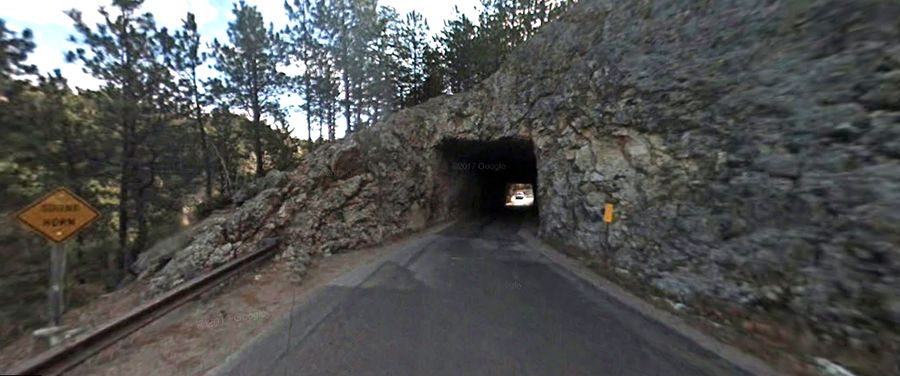 Iron Mountain Road is a very scenic drive located in the Black Hills of South Dakota. In only 17 miles the road has 314 curves, 14 switchbacks, 3 tunnels and 3 pigtails, turns which loop over their own road, allowing the road to climb rapidly. The road encompasses miles of stunning views through twisty hair pin corners, high elevations and steep grades.
This scenic asphalted road winds round and round to the 5,445-foot summit. It winds its way through Black Hills National Forest and Custer State Park and past Mount Rushmore National Monument. The road is famous for its views, horseshoe curves, and the three places it makes 360 degree turns- where the road completely circles around and passes over itself as it climbs the side of the mountain.
A quick glance at the map, at its sheer drops and serpentine twists and turns, confirms that this is no hype. Iron Mountain Road, also known as 16A, is not maintained during the winter, and the overview at the top of Iron Mountain is closed during winter months. Parts of the road are not recommended for RVs and large trailers. It was designed to be slow going – roll your window down, take the top off, feel the wind in your hair, smell the pine trees and the buffalo. The other features of the road are two narrow one-lane tunnels on the north side of Iron Mountain that are aligned with views of the Mount Rushmore National Memorial. The road is located just east of this memorial, a sculpture carved into the granite face of Mount Rushmore which features 60-foot (18 m) sculptures of the heads of four United States presidents: George Washington, Thomas Jefferson, Theodore Roosevelt and Abraham Lincoln.
The drive is definitely worth it. An incredible journey, an unforgettable experience. A drive not to be missed! There are many excellent photo opportunities. Every trip along this road will be a different experience. Don't forget your camera with lots of film/memory, fully charged batteries and an empty memory card! With the beauty of the mountains and valleys as its backdrop, this unusual and captivating road was specifically designed with a tremendous amount of curves in order to limit the speed of travelers to 35 miles per hour so that they could enjoy the beauty of the Black Hills.