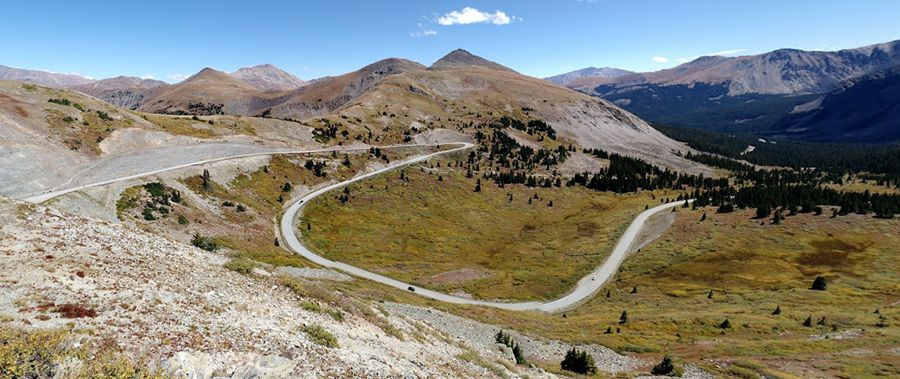 Cottonwood Pass is a high mountain pass at an elevation of 3.696m (12,126ft) above the sea level, located in the Rocky Mountains of south-central Colorado, in Chaffee County, United States. It's one of the highest mountain roads of Colorado.
The road to reach the summit, from Buena Vista to the east, is called Chaffee County Road 306, but near the summit the road name changes to Gunnison County Road 209 as it continues to the west. The drive is a great one to take in the fall to enjoy the changing colors before the snow comes. While most of the road is paved, the top 12 miles is well-maintained dirt.
The road is certainly breathtaking and it has a fearsome reputation. The pass tops out over 12,000 feet, has the third highest paved road in the state, has an incredible tree lined climb on the east side with a 10% grades section. It has switchbacks, scenery, and very little traffic. It's a great shortcut between Buena Vista and Crested Butte and is a great alternative to Monarch Pass a few miles to the south. Gorgeous Cottonwood Pass winds its way up and over the mountains between Buena Vista and Crested Butte, providing a beautiful scenic drive.
Portions of the road may be temporarily closed due to road work or inclement weather. In July 2002, heavy rains from a thunderstorm east of Cottonwood Pass caused a significant mudslide that blocked portions of Chaffee County Road 306 for many days. The western side of Cottonwood Pass is a dirt road, though the eastern side is paved from Buena Vista up to the top of the pass. Nearly any vehicle can complete this trail unless the conditions are less than ideal. If the road is wet or icy, it could become difficult. Note that there are seasonal gates at both ends and the trail is closed during the winter.
Avalanches and heavy snowfalls can sometimes block some sections of the road and can be extremely dangerous due to frequent patches of ice. The pass is closed seasonally due to heavy snowfall, typically from around October until sometime in May. Conditions can change quickly and be harsh. Road closures can be frequent, so check conditions before traveling to this area. The majority of this road is paved, with the exception being the section linking the summit of Cottonwood Pass with Taylor Park Reservoir, which is gravel. When open, the pass is one of the few routes through the Sawatch Range accessible in a standard two-wheel drive passenger vehicle.
The weather on this zone is harsh and highly unpredictable and it does not take much time for the bright sun shine to change over to moderate to heavy snow fall. Thunderstorms often develop in the afternoon in the Colorado high country. Visiting early and being back by your vehicle early in the day is advisable. Be aware of high altitude sickness, which can be life threatening. Hypothermia can be a hazard throughout the year. Watch the weather in September and be prepared for an early snow storm. As you continue down to the reservoir the road is no longer paved but it is an easy drive. There are a few switchbacks near the top, but the road gets wider and easier as you get lower in elevation. There are a few overlooks on the way down from the pass that are definitely worth the stop.
It has a well-deserved reputation for being dangerous because of unpredictable snowstorms and blizzards, and driving under these conditions, can be extremely challenging. Given that the pass is over 12,000, it's likely you will find snow at the summit year round. But more than that, this is a pass where the weather will change rapidly and any attempt to ride the pass should be done with due care. Have a lot of water with you and have foul weather gear. The ride is rather remote and you won't see too many other people if you need help.
Pic: Tony Blankenberger