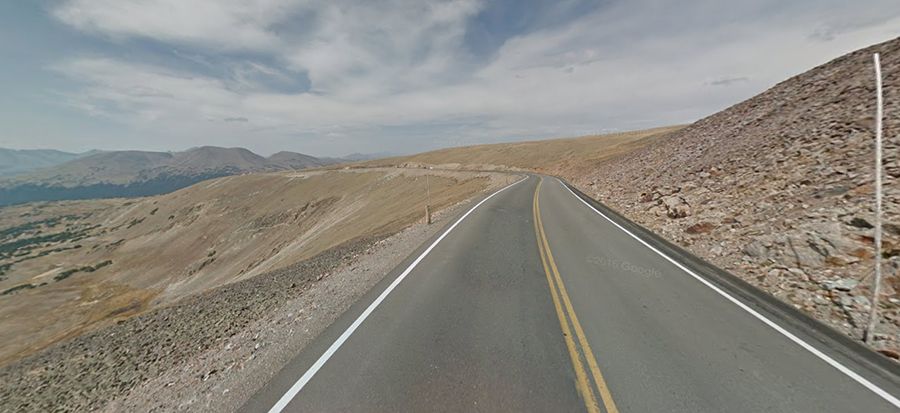 Trail Ridge Road is the name for a stretch of U.S. Highway 34 with a length of 38 miles, located in the Rocky Mountain National Park, Larimer County, Colorado, USA. The road climbs up Milner Pass, Trail Ridge, Fall River Pass and Iceberg Pass and is the highest continuous paved road in the country.
The road, also known as Trail Ridge Road/Beaver Meadow National Scenic Byway, cuts through Rocky Mountain National Park between the towns of Estes Park and Grand Lake, and is one of the best ways to see the Continental Divide as it cuts through Colorado. The name "Trail Ridge Road" derives from it proximity to historic pathways used by native peoples to cross the Rocky Mountains. It traverses Rocky Mountain National Park from Estes Park, Colorado in the east to Grand Lake, Colorado in the west. Construction began in 1929 and was completed to Fall River Pass by July 1932, with a maximum grade of 7%. Rocky Mountain National Park has the highest paved roads in any National Park in the United States. Trail Ridge Road crests at 12,209 feet.
With such a high summit altitude the road can be closed anytime due to snowfalls. The zone is prone to heavy mist and can be dangerous in low visibility conditions. Trail Ridge Road is closed during the winter, and often remains closed until late spring or early summer depending on the snowpack. It requires access to Rocky Mountain National Park even for local residents. Due to the high elevations and exposure, park roads are subject to strong winds and rapid weather changes. Road conditions in and around the park can change quickly, particularly in the spring and fall.