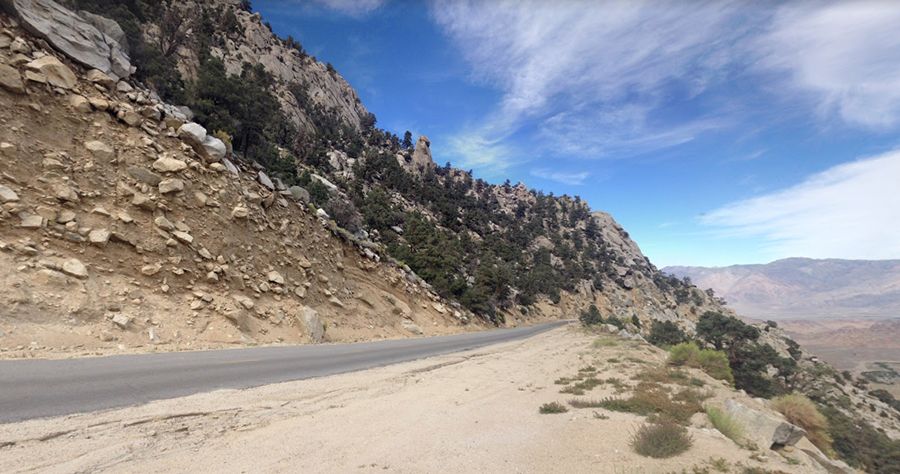 Whitney Portal Road it's a short but spectacular drive that takes you about halfway up Mount Whitney, located in the Sierra Nevada, a mountain range in the western United States. It's the highest summit in the contiguous United States with an elevation of 14,505 feet (4.421m) above the sea level.
Whitney Portal Road usually opens sometime in early May, with the first major winter storm shutting it down sometime in November, meaning it is not maintained or cleared of snow. However, it is not physically barred and climbers routinely drive as far as conditions will allow. The road is not gated or otherwise physically blocked, call the Inyo National Forest for information. Whitney Portal Road connects Lone Pine to Whitney Portal (the Whitney Portal Store is at the Portal, and the store is open in the summer). This route is paved but narrow, steep and winding with dramatic switchbacks. The road ends at 2.557m above the sea level.
This paved road, with a total length of 13mi (19km) passes through the Alabama Hills, the scene of literally hundreds of cowboys films, but the road has a film history, too. The steep, sharp switchbacks along the Whitney Portal Road were prominent in scenes in the Lucille Ball and Desi Arnaz film The Long, Long Trailer, in which Luci surreptitiously fills a travel trailer with her rock collection until it's too heavy to ascend the grade. The road is also featured in the 1941 classic, High Sierra, starring Humphrey Bogart. To reach the road, from highway 395 in Lone Pine, CA take Whitney Portal Rd west for 6/10ths mile to begin the climb where the road crosses the Los Angeles aqueduct.
The road still remains an adrenaline-pumping journey. It's a damned thing to behold. It twists and turns through an otherworldly landscape known as the Alabama Hills, a set of bizarrely constructed rock piles, before setting on a fairly straight shot for the foothills of Mount Whitney. The vistas change dramatically as you draw closer to the mountains, seeming more and more massive until suddenly they overwhelm you, and you're a part of them, looking back down on the road, the hills, and the OwensValley. In other words, there's plenty of time to think about what you're getting yourself into.It's a great and difficult climb out of the high desert up towards Mount Whitney, the highest mountain in the lower 48. Like most eastern Sierra ascents this one starts out tame and ends up tough. The grade generally increases as you climb so that a five mile stretch in the 2nd half averages 9%. The hill lets up just before the finish at Whitney Portal and a parking/hiking area (trailhead to Mt.Whitney). Whitney Portal is also very similar to the famed French climb of the Madeleine.
Pic: James Hatton