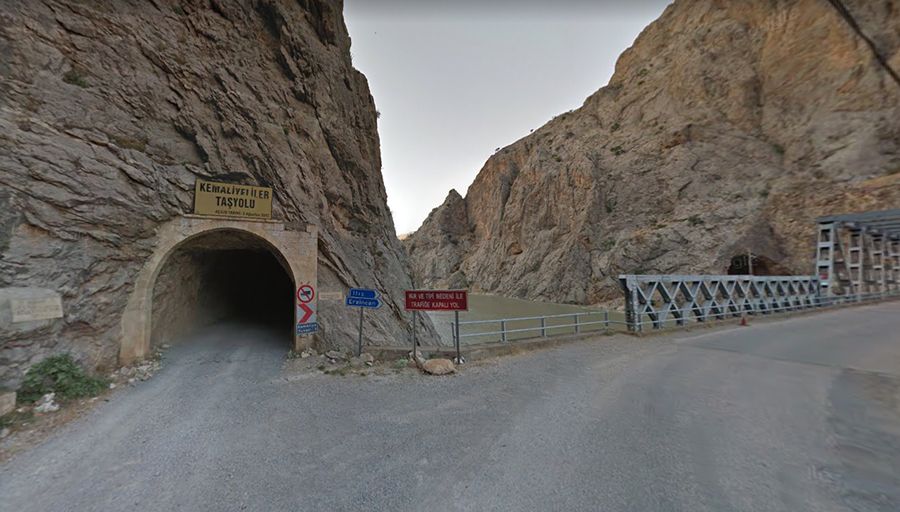 Kemaliye Taş Yolu is one of the most extreme roads in the world. Located in the Eastern Anatolia region of Turkey, this hand made road is extremely challenging, with drops of hundreds of meters unprotected by guardrails with 22 unlit and extremely narrow tunnels. The construction of the road started in 1870 and finished in 2002.
Kemaliye Taş Yolu (Stone road of Kemaliye) is located in the Eastern Anatolia region of Turkey. The drive to Kemaliye above the canyon is spectacular and hair raising. Imagine a breathtaking wild gorge in steep rocky mountains, a deep green river, colourful gardens, forests, cosy stone and wooden houses, waterfalls, fresh mountain air and warmhearted locals...
The road finds its way through the rocks. It is surreal. This is a river and walls of rocks on each side. This road has been heralded as one of the most spectaculars roads in the world by the dangerousroads.org users. The road links Kemaliye with Divriği, a remote town, sort of near Sivas, that just happens to possess, in the 13th century Ulu Cami-Darüşşifa complex, Turkey's most unexpected world heritage site.
After rain, sections of road can become decidedly hazardous when fast-flowing creek crossings and slippery mud can cause road closures. The construction of the road started in 1870. It took 130 years to be built. It's a road that was more than a century in the making, and when you see it you can immediately understand why. It trundles along a ridge high above the Euphrates (Fırat) River, and, in the course of its progress, passes through a phenomenal 4,722 meters of separate tunnels, each one of them laboriously hacked out of the mountainside.
This stone path was opened in 2002. It's 2 meters wide and has many tunnels of various sizes. The road is much more spectacular and dangerous than the famous Guoliang Tunnel, in China. There are some narrow sections -scarcely wide enough for two cars- where if two vehicles have to pass each other, one might have to reverse for some kilometers of winding narrow road to get to a place wide enough to pass. It shouldn't be attempted by those who don't know how to reverse.
This stretch of road should not be attempted by novice drivers. The road and the tunnels pass through the canyon, a rocky gorge so deep that the sun barely penetrates its bottom, with the river sauntering through it a great deal more calmly than it has any right to. Down the canyon, the road was built by locals with their own hands; a scenic 30 km stone road with plenty of tunnels and "windows" for paragliders.
This road tests the skill, and courage, of any driver. It's definitely not for anyone suffering from vertigo or a fear of landslides. One mistake and it's a free fall to your death. The rough road runs along the Karanlık (dark) Kanyon and the Eufrates river. The canyon has up to 600m of depth, making it extremely popular for BASE jumping and thrill-seekers. Drive with care as this is a mountain road with hairpin curves and dangerous dropoffs to the river. It's definitely not for anyone suffering from vertigo or a fear of landslides.
Do not travel this road in severe weather conditions. Avalanches, heavy snowfalls and landslides can occur anytime, being extremely dangerous due to frequent patches of ice. Expect 22 unlit tunnels. The tunnels are very narrow. Impassable for big vehicles: 170cm width and 220cm height limited. Maximum width: 5meters and maximum height: 6 meters. The road is bordered by a drop of hundreds of meters (many hundreds of feet) unprotected by guardrails.
Open to all motorized vehicles, however, strongly recommended for 4-wheel drive vehicles. The road is very rough--only try driving it in a 2wd car, if you're planning to buy a new car. Karanlık Kanyon is said to be the second-biggest canyon in the world after the Grand Canyon. At the first bridge there is a memorial with a long list of the people killed while making the road and bridge.