Strada dell'Assietta is a military carriageway along the ridge that gathers Pian dell'Alpe to Sestriere, located in the Province of Torino, In Italy. The track unfolds for 34 km, almost entirely over 2.000 meters above the sea level. The road just opens from June 1st to October 31st, and transit is forbidden to vehicles over 3,5 tons weight and over 2 metres wide. It's not a road for beginners.
The road, officially called Strada provinciale 173 del Colle dell'Assietta, has been heralded as one of the most spectaculars roads in the world by the dangerousroads.org users. It is passed through by cyclists, bikers, on foot and on horseback excursionists, motorized vehicle users (when allowed), from June 1st to October 31st, weather permitting. A careful use and conservation of the road contributes not only to preserve the invaluable environmental landscape resources of Orsiera-Rocciavré and Gran Bosco of Salbertrand protected areas. It also offers the chance to understand a territory and the signs left by its people over the years. In order to enable a proper and sensitive fruition of the users' different needs, each person may promote a "smooth", slow and respectful circulation.
The road can be travelled in the two ways, coming both from Sestriere both from Colle delle Finestre. The military road leads along the ridge connecting Pian dell'Alpe with Sestriere and separating Val Chisone from Val Susa. It develops for over 30 kilometers within Gran Bosco di Salbertrand Park and it represents a unique opportunity to discover some of the most significant events of the history of this extremely fascinating place set in the western Alps. This road was built by Kingdom of Italy military commanders in 1890, with the aim of allow a quick troops movement from Chisone to Susa Valley. This project was realized in 1889, studied by combat engineers.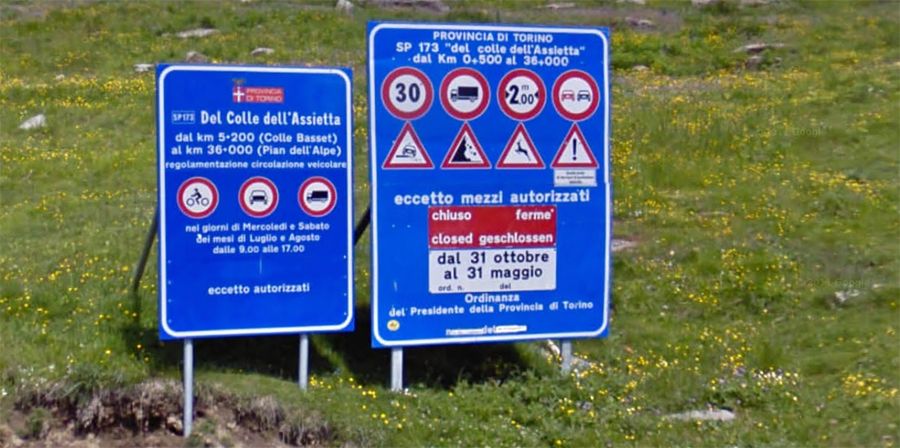 The Assietta is a very scenic gravel road which runs for most of the time on top of the mountains. The total length of the gravel part is around 35km and the eight passes which you will do on this tour are between 2.200m and 2.585m high. With a development of more than 60 km, Assietta Road SP173 and the neighbouring Colle delle Finestre Road SP172 form the main structure of a road network which is often over 2.000 meters of altitude and almost completely excavated.
On this road your wheels will be astounded at the wonderful view of the valleys spread out before you! They are terrible for drivers who are prone to vertigo. The road just opens from June 1st to October 31st, and transit is forbidden to vehicles over 3,5 tons weight and vehicles over 2 metres wide. Overtaking is totally forbidden, and the speed limit is 30km/h. The highest point (2.538m) on the ridge road is after the Assietta pass and the lowest point (2.286m) is between Colle di Costa Piana and Colle Bourget, right in the middle.
It's incredibly disorienting to look over the edge, or even just to see the valleys a couple thousand feet below you. The road cuts along a cliff face where there is only a foot high wall separating you and a sheer, base jumps wet dream, drop to the valley below. It's a mind numbing vertical drop of hundreds of meters so you might want to give it a miss on a windy day.
The road is totally drivable despite of the many rocks and deteriorated surface especially in curves. It has a speed limit of 30 km/h and is forbidden to overtake or stopping outside the parking areas. The road climbs up to:
-Colle dell'Assietta (2.474 m)
-Colle Lauson (2.497m)
-Colle Blegier (2.381 m)
-Colle di Costa Piana (2.313 m)
-Colle Bourget (2.299 m)
-Colle Basset (2.424 m)
The road climbs up to the foot of Testa dell'Assietta, a high mountain pass at an elevation of 2.566m above the sea level. On the summit there's an obelisk dedicated to a 1747 battle, a significant event of the War of the Austrian Succession. Travelling on the Assietta road offers a unique chance to discover some of the most significant historical landmarks of one of the most striking corner of Western Alps. It's an incredible historical, artistic, environmental and recreative itinerary. The road is travelled each year by hundreds of passionated excursionists, bikers, cyclists, mainly coming from abroad (Germany) and recently it is undergoing a development process directed to improve its usability.
This tortuous route should not be attempted by those who don't know how to reverse. Some parts are so narrow that if two vehicles have to pass each other, one vehicle might have to reverse for anything up to 3 kilometres of this winding narrow road to get to a place wide enough to pass.
To get more information about the road, and the closure days, see www.stradadellassietta.it website. The road has recently been undergoing improvement to make it more usable, and is closed to motor vehicles on Wednesdays and Saturdays in July and August.