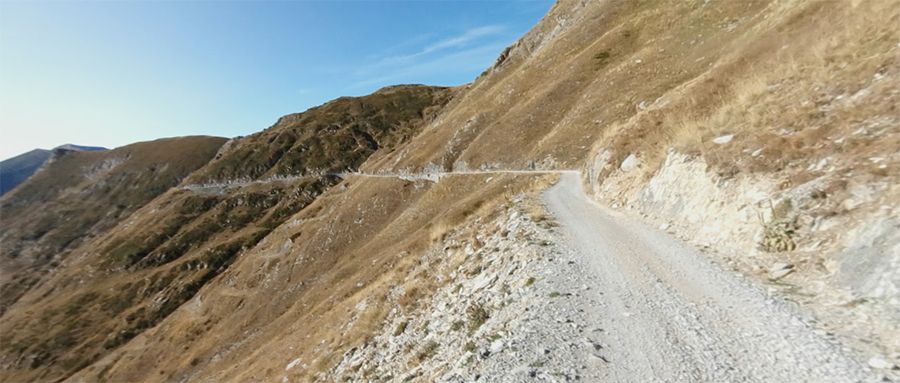 With a total length of 60km, Via del Sale is an old military road, between Monesi and Limone (Italy). Among many roads that connected the ancient Liguria and Piedmont to France, this is one of the most famous and popular. This road has humbled many egos. It's not for the sissies and shouldn't be attempted by novice drivers.
The Via del Sale, also known as Route du Marguareis, is a Ligurian track built in the Middle Ages to transport salt from Ventimiglia to Limone Piemonte and from there to Turin. As a result, the road has been enlarged and many sections were magnified and transformed into military roads to connect the numerous forts located along the border between Italy and France. Today, it is a wonderful dirt road, which runs along the ridges of the Maritime Alps on the border between Italy and France, in a wild landscape and stunning views of the sea and the mountains.
This route is closed to traffic during the winter months (October to March) because of the snow, but it can be closed anytime when the access is not cleared of snow. On summer, being one of the best known and most popular routes of the western Alps, it's necessary to pay close attention to the transit of mountain biking and horseback riding. This scenario is particularly challenging at the hairpin turns along the climbs sharply slope, because the engine of cars are being really forced during all the path.
There are some narrow sections -scarcely wide enough for two cars- where if two vehicles have to pass each other, one might have to reverse for some kilometres of winding narrow road to get to a place wide enough to pass. It shouldn't be attempted by those who don't know how to reverse. The road is difficult and it's a nightmare in the wet or dark (or both).
Watch out for sudden loose-gravel breaks. The word 'order' is always needed. You'll need to move with extreme caution to minimize the risk, and before many steps you will need to go down the car and walking to inspection the road. In fact, the difficulties in terms of off-road are significant and require (in addition to a consolidated experience) a good knowledge of driving skills and, above all, an extreme and constant attention because of the dizzying cliffs that open on either side of the track along the route.
It's a real challenging road and a true test of your vehicle and your stamina because the road abounds in twists and turns with wheels sometimes hanging above the precipice. Extended over a length of about 60 km, most of which (48.71km to 59.61) on dirt roads and mule tracks, the off-road route from Monesi Limone is a path that can be defined as first class in every aspect. A traveler on this road must be experienced and completely devoted to safe, slow and obstacle-conscious driving to deter danger. To drive this trail, you must have supreme confidence in your vehicle and your driving skills.
The road climbs up several mountain passes, including:
Passo della Guardia 1.508m (4,947 ft)
Passo di Collardente/Pas de Colle Ardente 1.617m (5,305 ft)
Colle di Perla 2.215m (7,267 ft)
Colle de Carsene 2.221m (7,286 ft)
Colle Malaberghe/Col de Malabergue 2.225m (7,299 ft)
Passo di Tanarello/Pas du Tanarel 2.042m (6,699ft)
Col de la Boaire/Colle della Boaria 2.102m (6,896ft)
Col de Seigneurs/Colle del Lago dei Signori 2.130m (6,988ft)
Colle del Garezzo 1.795m (5,889ft)
If you dare to take the risk and travel along this dusty and bumpy route, then make sure to be driven by someone who has experience of the road. Staying on track here takes oodles of concentration. There's sheer drops virtually along the entire route and enough hairpins to make a whirling dervish dizzy. Make sure you get your vehicle and yourself well-prepared before driving this road. The road bad conditions, with extremely large pot holes could potentially pop a tire, crack a rim, or screw up your cars allignment. Never underestimate this track!
Pic: Matteo Quaglia