If you're driving in the Icelandic highlands, most of the roads (marked as F) will lead you to a river crossing.
Keep the following things in mind:
Crossing big rivers requires a bit of experience. Do not attempt to cross with one car, or during heavy rain. Keep in mind that rivers can become impassable after heavy rainfall. It can be treacherous if the water level rises due to lots of rain and warm weather. River levels in the highlands change by the day and even by the hour in summer due to warm temperatures or rain. Only well equipped jeeps and larger vehicles are able to cross the rivers. Do not cross a river unless you are a 100% sure of being able to get to the other side. Wait for another vehicle to cross to see the depth or walk into the river – if you can't walk into the river your car won't make it over either. Always check the river to ensure that it's not too deep. Rivers that can change rapidly with rain or change in heat. Be sure of the route you are going to take before entering the water. Do not attempt to cross any glacial river without an expert.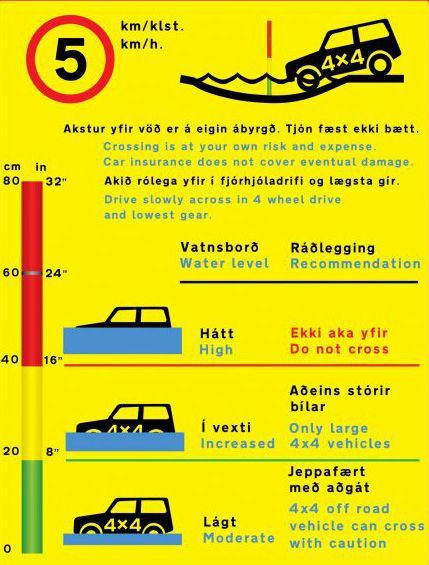 It can be dangerous during the dark night. Go in with open eyes and take proper precautions. Rental car insurance does not cover damages from water, including any damage caused by crossing rivers. It can be really dangerous. Put your car in a low-gear and cross the river slowly (5 km/h) and steady – do not switch gears while in the water. Only those experienced in jeep driving and in crossing rivers by automobile should attempt it. Rivers can change from relative shallow to deep in a heartbeat. Always try to go down stream as going against the current will increase the risk of water going into your engine. In case you get stuck in the river, call 112. It's not recommended to drive unaccompanied. You'll need a 4x4 vehicle with high clearance. Do not enter the river where it seems calm – this is a sign of depth and is not the ideal spot to cross. Know your abilities and when to abandon the travel plan and turn around.