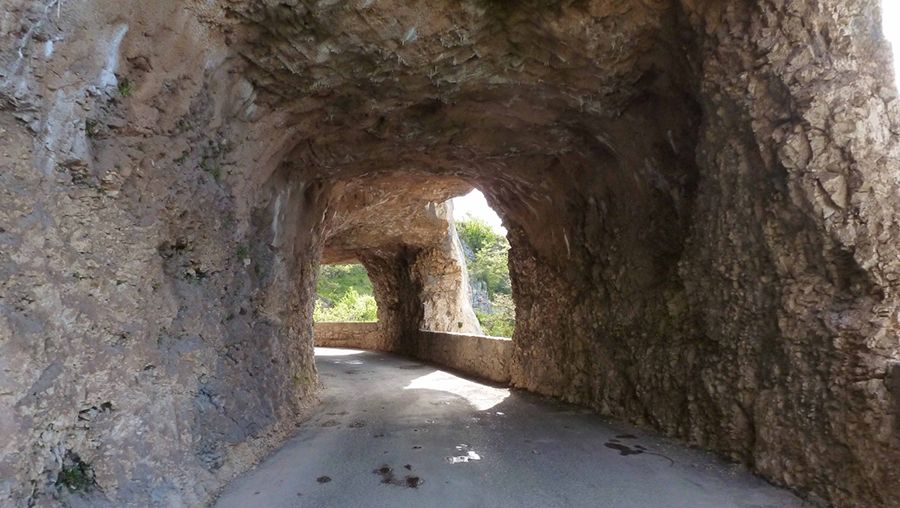 Route de Presles is a stunning mountain road located in the Isère department in southeastern France. The road is 7 km carved into the mountains. Words can't describe the road and pictures don't do it justice. It's one of the most spectacular balcony roads in the country. You should be prepared to back up if you meet an oncoming vehicle.
The road is called D292. It's a succession of open tunnels and passages, carved directly into the rock, resulting low and narrow lanes, blind corners and potential landslides. The road is certainly breathtaking and it has a fearsome reputation. There are not many roads like this in Europe, if you can handle the height and the prospect of a very long freefall this road absolutely has to be on the list of any road connoisseur.
Roads prone to landslides are regularly shutdowns for maintenance. Do not forget to check this before you go. Keep an eye on the condition of the road, including the possible presence of stones fell from the walls, which could make you deviate from your path. The road is in dreadful condition and requires strong nerves to negotiate it.
A quick glance at the map, at its sheer drops and serpentine twists and turns, confirms that this is no hype. If the visibility is reduced, for example, in a tight, do not hesitate to sound the horn to signal your presence (and slow, of course). On this kind of very scenic route, pay special attention to cyclists, walkers and other pedestrians out of their vehicles for a "souvenir photo" (or a flat tire!).
The road still remains an adrenaline-pumping journey and is definitely not for the faint of lungs, heart, or legs. It has amazing views of the Hauts Plateaux du Vercors. The road continues to the spectacular Gorges du Nan. It runs as a single track road along the mountainside for some distance with nowhere to pass another vehicle. Here one says a prayer that nobody is coming towards you until the road widens some kilometres further.
Pic: http://cestdurlevelo.over-blog.com/article-19-mai-2012-triple-au-mont-noir-105469207.html