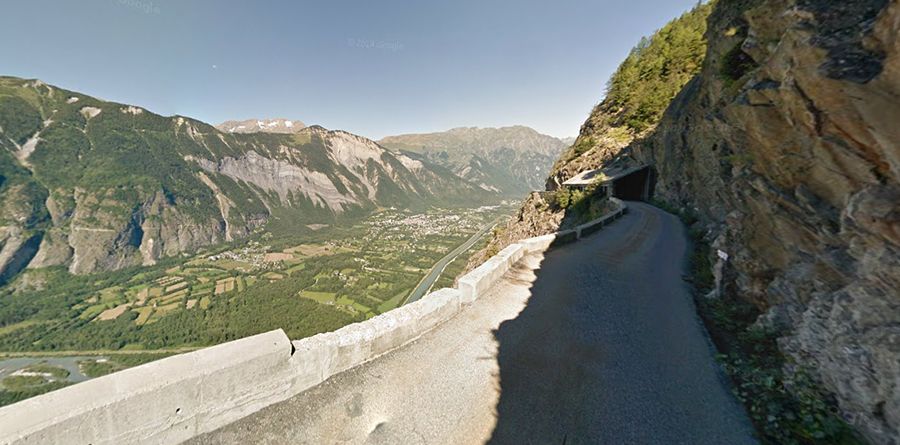 D211A road is a short mountain road located in the Isère department in the Rhône-Alpes region of south-eastern France. Along the way there are three narrow&unlit tunnels, carved out of the cliff face. Avoid the drive if you don't like heights. It's one of the French balcony roads.
This amazing road is carved into the mountainside in France. It's a road to die for (or die on, if you're not careful!). This cliff road is asphalted and goes through the Combe de la Fayolle. It's normal for your palms to sweat looking at those photos, imagine what it must have been like before the barriers. The staggering road is 15.9km long. It's also known as Auris balcony road or Route de la Roche and links the villages of La Garde-en-Oisans and Balme, perched on a cliff above the Romanche valley, with fabulous views over Bourg d'Oisans far below.
This road is one of the most famous balcony roads in the country. A balcony road is a hair-raising lane cut into the sides of sheer cliffs. It's a kind of road not for those who fear heights. There is little room for error on these roads. Drive with care as this is a mountain road with hairpin curves and narrow unlit tunnels. When you take this road as picturesque as it is narrow, with its many suprising meanders, drive carefully, and above all don't miss the parking spaces that have been provided.
This beautiful road with stunning views is not recommended for drivers who are prone to vertigo. It's incredibly disorienting to look over the edge, or even just to see the town of Bourg d'Oison a couple thousand feet below you! This road raises everyone's heartbeat.
This road should not be attempted by those who don't know how to reverse. It's one of the most famous dramatic 'balcony' or 'corniche' roads near Bourg d'Oisans. Balcony roads are hair-raising lanes cut into the sides of sheer cliffs. It makes you realize how lethal one small riding mistake can be, as this little road soars high above the valley in the cliff wall. Leitplanke? Partly completely gone… So nothing separates you from the 200m drop next to you.
This tortuous route is not for those who fear heights. Your wheels will be astounded at the wonderful view of the valley spread out before you! The road cuts along a cliff face where there is only a foot high wall separating you and a sheer, base jumps wet dream, drop to the valley below. It's a mind numbing vertical drop of 550 meters so you might want to give it a miss on a windy day. There are not many roads like this in Europe, if you can handle the height and the prospect of a very long freefall this road absolutely has to be on the list of any road connoisseur.