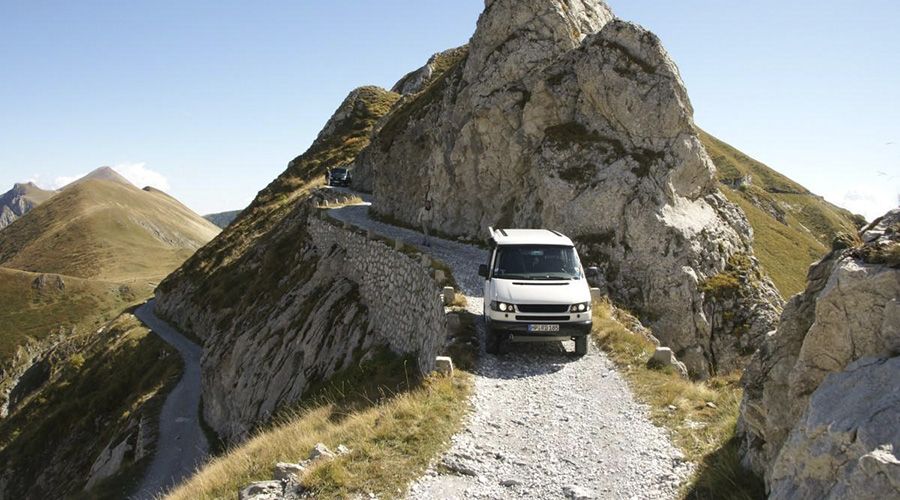 La piste de l'amitié is an extreme dirt track with a length of 110 km in the Mercantour, Maritime Alps, in the Franco-Italian border. The road is also known as Piste du Marguareïs. It's certainly breathtaking and it has a fearsome reputation. It still remains an adrenaline-pumping journey and is definitely not for the faint of lungs, heart, or legs. Words can't describe the road and pictures don't do it justice.
This sharply winding and precipitous ascent in a a steep and narrow zig-zag road begins in the Vallée de la Roya, to be extended towards the Col de Tende, the Col des Seigneurs, Le marguareïs, la Baisse de Sanson to finish à La Brigue. This road has humbled many egos. It's not for the sissies and shouldn't be attempted by novice drivers. The road is in dreadful condition and requires strong nerves to negotiate it.
There are some narrow sections -scarcely wide enough for two cars- where if two vehicles have to pass each other, one might have to reverse for some kilometres of winding narrow road to get to a place wide enough to pass. It shouldn't be attempted by those who don't know how to reverse. The road is difficult and it's a nightmare in the wet or dark (or both).
There is little room for error on this road. It's normal for your palms to sweat looking at those photos. It's incredibly disorienting to look over the edge, or even just to see the valleys a couple thousand feet below you. It's a mind numbing vertical drop of hundreds of meters so you might want to give it a miss on a windy day.
Your wheels will be astounded at the wonderful views of the mountains spread out before you! They are terrible for drivers who are prone to vertigo. In many places the road is bordered by a drop of hundreds of meters (many hundreds of feet) unprotected by guardrails.
The surface of the road is gravel and rocks. Only 4x4. Do not travel this pass in severe weather conditions. Avalanches, heavy snowfalls and landslides can occur anytime, being extremely dangerous due to frequent patches of ice. It has a well-deserved reputation for being dangerous because of unpredictable snowstorms and blizzards, and driving under these conditions, can be extremely challenging.
The surface on this gravel road is often loose, especially along the sides of the road. Due its unique location and the climb in elevation over thousands of feet, and passing through remote areas, it is important when driving in these conditions to be prepared. This track can get very muddy and slippery after rain making it challenging to get through. During and after a storm the road may be impassable, even with a four-wheel-drive vehicle.
More pics: http://www.dalhaeuser.de/urlaub/Ligurien_2010/0928_Ligurische%20Grenzkammstrasse%20Nord_800/20100928_Ligurische%20Grenzkammstrasse%20Nord.html