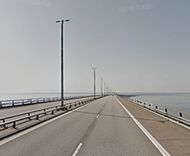 The Øresund Bridge is a new link between Denmark and Sweden. This spectacular bridge connects the towns of Amager and Oresund in Denmark (on the island Zealand) with Skane, in Sweden. It has a length of 10 miles (16,4 km). It's one of the most spectacular bridges in the world.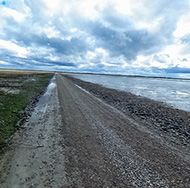 Located in the Danish Wadden Sea islands off the southwest coast of Jutland, Denmark in the Wadden Sea, part of the North Sea, there's an island known as Mandø. Twice a day the ancient road to the island disappears with the tides, leaving the island out to sea. Make sure you check the tide tables.
Egholm road is a short 3,4km trail located in the Danish island of Egholm, in the Limfjord, close to Aalborg.
Møns Klint Road is a very scenic road located in the eastern coast of the Danish island of Mønin the Baltic Sea. The road reaches the Møns Klint, a 6 km stretch of chalk cliffs.
The road between Ivittuut and Kangilinnguit is the only asphalted road in Greenland. It's 4.5 km (2.8 mi) long. Due the extreme weather there are no roads between settlements in the whole island, only within them and around them.
Located in western Greenland, the Greenland ice sheet is a vast body of ice. This world-class attraction is one of the most important landscape feature in the island. The Greenland ice sheet begins to the east of Kangerlussuaq and is a spectacular sight to behold.
At an elevation of 170.35m (558.9ft) above the sea level, the road to the Ejer Bavnehøj tower, is the highest road in Denmark.