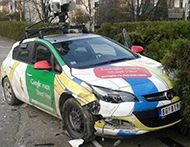 The Opel Astra Google Street View car was being driven on the streets of Pozega in the Zlatibor District of Serbia and for reasons unknown at this moment the driver lost control of the hatchback and hit a pole before coming to a full stop in the nearby bush.
Ibarska magistrala is an asphalted regional road located in Serbia, connecting Belgrade with western Serbia and Montenegro. It goes parallel to the Ibar river. Bad conditions and overcrowding can make it dangerous.
Pančić's Peak is a high mountain peak at an elevation of 2.017m (6,617ft) above the sea level, located on the border of Serbia and Kosovo.
Jerma River canyon is one of the most beautiful canyons in Serbia. Located at the south-east of the country, the gorge of the river is also known as Vlaška Gorge.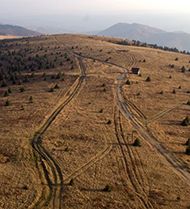 Jankov kamen is a high mountain pass at an elevation of 1.833m (6,013ft) above the sea level, located in Golija mountain, in southwestern Serbia. On the summit there's a communication tower.