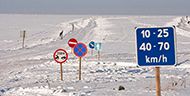 Rohuküla-Heltermaa ice road is the longest ice road in Europe with a length of 26,5 kilometres (16 miles) stretching for across a frozen expanse of the Baltic Sea. The road links Estonia's mainland port of Rohukula on the continent with Hiiumaa island.
Ice road between Haapsalu and Noarootsi, with a total length of 3.2 km located in western Estonia.
Located in the Lääne County of Estonia, the icea road over the Baltic Sea is a fun experience for many drivers.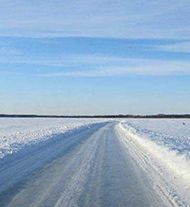 Ice road between Lao and Kihnu (between the mainland and Kihnu), with a total length of 13 km, situated in southwestern Estonia. The freezing of the seas between the Estonian mainland and the islands has had historical significance, as during the middle ages these occurrences have been used by armies to invade the islands as they could simply walk across the sea.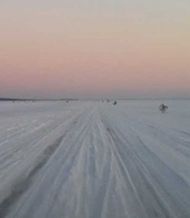 Ice road between Rohuküla and Sviby (between the mainland and Vormsi), with a total length of 10,2 km in western Estonia. From the mainland to the island of Vormsi, this ice road leaves from near the ferryport of Rohkula, West of Haapsalu. To reach the start of the ice road, head towards the port, but take a signed right turn just after the port comes into view. This will take you to the caravan which rather incongruously marks the ice roads start.
Elda pank is a very scenic beach located in Lümanda parish, on the northwest side of Atla peninsula, on the territory of Vilsandi National Park, in western Estonia.
At an elevation of 318m (1,043ft) above the sea level, the road to the Suur Munamägi is the highest road in Estonia.