Located south from the town of Çorovoda in Skrapar district, southern Albania, the Kanionet e Osumit bridge is one of the most spectacular bridges in the world.
The bridge is wooden. It's 25 m long over the Osumi river gorge, one of the most spectacular natural attractions of the country. Dated from between 2 to 3 million years ago the gorge is 26 km long.
The bridge lies on the road from Çorovodë (also written as Çorovoda) to Piskovë. Starting from Çorovodë, the road is asphalted. But after the bridge, the road goes on as a 4x4 track. The canyon, the biggest of the country is often called as the Colorado of Albania.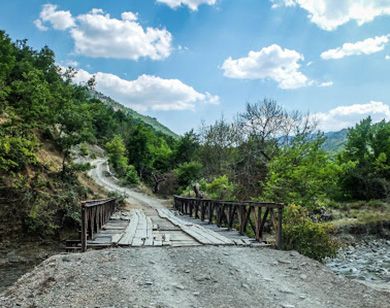 The Çorovodë – Piskovë road includes several wooden bridges over the Osum river. The bridges are suffering a slow rotting. It's said to be one of the most dangerous roads of the country.