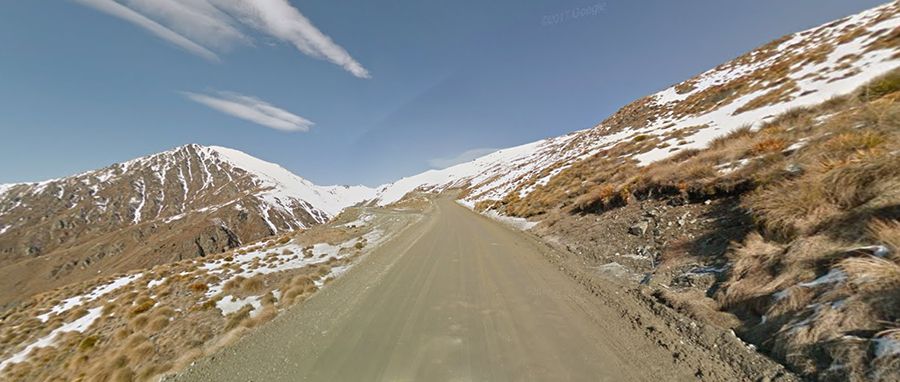 The Remarkables road is a 13,2km gravel road climbing up to the Remarkables ski fields, at an elevation of 1.622m (5,321ft) above the sea level, located in Otago, South Island of New Zealand. It's one of the highest roads in the country.

This road is usually open all year, but it can be closed anytime when the access is not cleared of snow. The views on the drive begin almost immediately up the road, but 4km up is a looping pulloff worth a first gawk. At the 6km mark there's a parking area and short path up to the 900m Trig's phenomenal view, both out over the lake and down directly below at the confluence of the Shotover and Kawarau Rivers. You'll see the milky ShotoverRiver actually blending with the crystalline KawarauRiver, making the Kawarau a bit more opaque as it flows towards those splash-ing bungy'ers bouncing around a few kms downriver. Above the Trig the views don't dramatically improve too much, so turn back there if you don't like cliff-edge washboard road. The Lodge itself isn't too scenic, but the tracks from the lodge are.
The Remarkables Rd is off of SH 6 just south of Q-town and Frankton. The road up is unsealed, corrugated, steep, dusty and with no safety rails. After snow fall it could potentially be treacherous and chains definitely need to be carried. Signs on the way up the mountain will indicate if chains need to be put on 2-WD or 4-WD vehicles.
The road includes some steep sections. If you don't want to drive, but would rather put your life in someone else's hands, there are frequent shuttle bus services to and from Queenstown. NZSki Snowline (ie the resort) runs shuttles from the Snow Centre (The Station Building – Duke Street Queenstown) with various pick-up locations across Queenstown. In the main part of the season, buses depart every 15 minutes. Return trips on The Green Line from the Snow Centre are free for everyone with a valid Remarkables lift pass or combo pack, and has a bus ticket or voucher. The Yellow Line goes via various accommodations. Shuttles are also run from the carpark at the base of the access road (White Line).
The weather on this zone is harsh and highly unpredictable and it does not take much time for the bright sun shine to change over to moderate to heavy snow fall. The mountains were allegedly named the Remarkables because they are one of only two mountain ranges in the world which run directly north to south. An alternate explanation for the name given by locals is that early Queenstown settlers, upon seeing the mountain range during sunset one evening, named them the Remarkables to describe the sight.