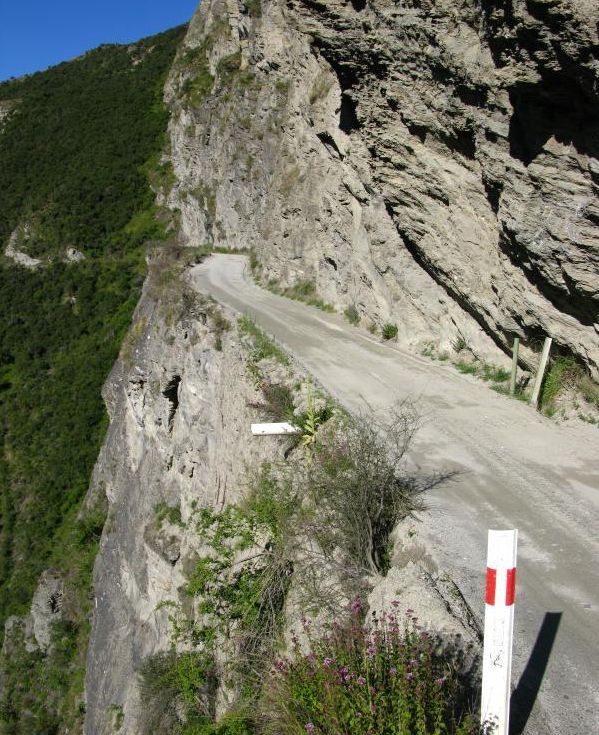 The Skippers Canyon Road, located in the south-west of New Zealand's South Island, is today one of New Zealand's better known scenic roads and unbelievably scary as it's totally narrow and different to manouvre your car. This gravel road, with a length of 16,5 miles, carved by hand by miners over 140 years ago is made from a very narrow cut in the middle of a sheer cliff face. It's a road so dangerous that your rental car insurance won't be honored if you drive on it.
The road was built during the gold rush, when a precarious pack track was the only access to Skippers township and the Upper Shotoverdiggings. Constructed between 1883 and 1890, the Skippers Road was considered a major engineering feat in its day. The miners who built the road in the late 1800s didn't think much about luxury, though — it's unpaved and very narrow. Should you encounter a car driving the other way, one of you will have to back up gingerly until you can find enough room to pass. Good luck figuring out which of you that will be. The road is so narrow that if two vehicles have to pass each other, one vehicle might have to reverse for anything up to 3 kilometres of winding narrow road to get to a place wide enough to pass. It's one of only two roads in the country where rental car insurance is not honoured if driven on. Skippers Road is mostly one-way, narrow and steep with sheer drops of several hundred metres. The journey offers superb views. It's definitely worth it. A drive not to be missed! Don't forget your camera with lots of film/memory, fully charged batteries and an empty memory card! With sweeping views along the gorge and of the Shotover River below, you'll have countless photo opportunities at every turn! The road is difficult and it's a nightmare in the wet or dark (or both). No insurance covers rental cars on this road, and if you have ever met oncoming traffic on this unsealed, narrow and twisting road with a vertical drop on one and a vertical rock wall on the other side, you understand why. Skippers Canyon was formed by Glaciers approximately 25,000 years ago as loose gravel rock and gold ground its way down the valley. In this glacial process ton after ton of precious gold was deposited throughout the canyon. Over the years the mighty Shotover River Queenstown flowed from the Southern Alps and created what would be known as the richest gold bearing river in the world. The road was built to improve access to the upper Shotover River for miners, particularly for those seeking to install large machinery. It also provided a better means of access for those living in the canyon than the existing packtrack (1863). Mining's heyday was over by the time the road was completed but it continued to be used by farmers and tourists and those mining operations that lingered on in the twentieth century.
Skippers Road, a narrow, winding, and exhilaratingly treacherous pathway that twists and turns for about 16 ½ miles through Skippers Canyon, was carved and blasted right out of the solid rock by Chinese laborers. It took 22 years to carve out an access road using only black gunpowder and hand drills. This was considered to be an engineering miracle as the road is literally carved out of solid schist rock and it doesn't look much different today than when it was first created. The local rock is so soft that under the traffic it quickly turns into dust in dry weather and to greasy mud in wet. Under these conditions it is no surprise to learn that initially motor vehicles were banned from driving on Skippers Road at the beginning of the 1900s. The road encompasses miles of stunning views through twisty hair pin corners, high elevations and steep grades. As this road is closed to rental cars, access is basically by 4 wheel drive vehicles. The road was cut by hand into steep cliffs by early prospectors in their quest for gold. The discovery of gold in the Skippers Canyon in 1862 and in the Arrow river brought a huge influx of miners into the area. Words can't describe the road and pictures don't do it justice. The track traverses the face of the canyon high above the powerful Shotover River.
Drive with care as this is a mountain road with hairpin curves and dangerous dropoffs. In most places it's too narrow for vehicles to pass each other, there are no guardrails, and the drop-offs leave absolutely no room for error. Today, Skippers Road is very much a tourist attraction. It is protected by the New Zealand Historic Places Trust since 15 December 2006 under the register number 7684. Although much of the road remains as it did in the nineteenth century, the topography, harsh climate, widening, and regular maintenance have led to the loss of some significant features, including some of its stone walls, famous features intended to prevent vehicles from toppling off the road. Due its unique location and passing through remote areas, it is important when driving in these conditions to be prepared. You descend into a deep canyon, viewing the amazing back country, and rocky outcrops where the road was sculptured by the pains taking labour of the Chinese. Its narrow width, impressive stone walls and rock cuttings will survive to remind us of the skill and tenacity of the road builders to forge a road through such daunting country.
The road is difficult and it's a nightmare in the wet or dark (or both). There is little room for error on this road. It tests the skill, and courage, of any driver. It's definitely not for anyone suffering from vertigo or a fear of landslides. There are several warning signs along the road, remembering that vehicle damage is possible, rental cars may not be insured, winding road, narrow road, gravel road, recommended speed 15 km/h on the next 20 km, danger of sliding, rock fall, steep drops, animals on the road, no safety barriers…
There are some basic rules for this road. The road is narrow and prone to slips. Caravans and trailers are not suitable on this road. In winter snow can close the road. Some vehicles are not insured past this point. No turn around for 6 km. Tourist traffic has been a significant user of the road since it was constructed and, 116 years since it opened, it can be considered one of the most enduring tourist attractions in New Zealand history. Many tourists visit just to experience the road, a remarkable testimony to its attractions. Today tourism is the road's biggest user, with many people coming to see the road or use it as a means of access to bungy jumping operations or white water rafting. Skippers Road is an iconic New Zealand road of outstanding heritage significance.
Skippers Canyon has been the iconic location for some movies. It's actually one of the best kept secrets that the canyon featured in the first of the Lord of the Rings movies. And some scenes from Tom Cruise Mission: Impossible 6 were filmed here.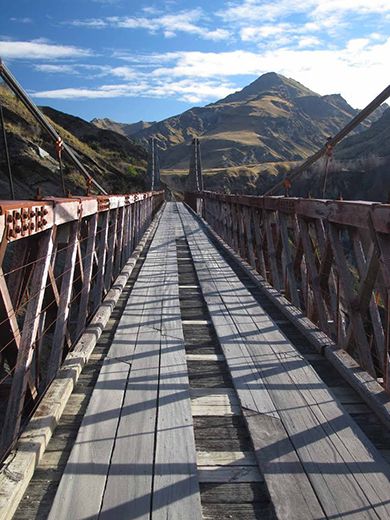 One of the most famous sections of this road is the Skippers Bridge. At 96 m long and 90 m high, the Skippers suspension bridge over the Shotover River near Queenstown in Central Otago is one of the most spectacular bridges in the world.
More pics: http://www.flickr.com/photos/psundstrom/5496766394/