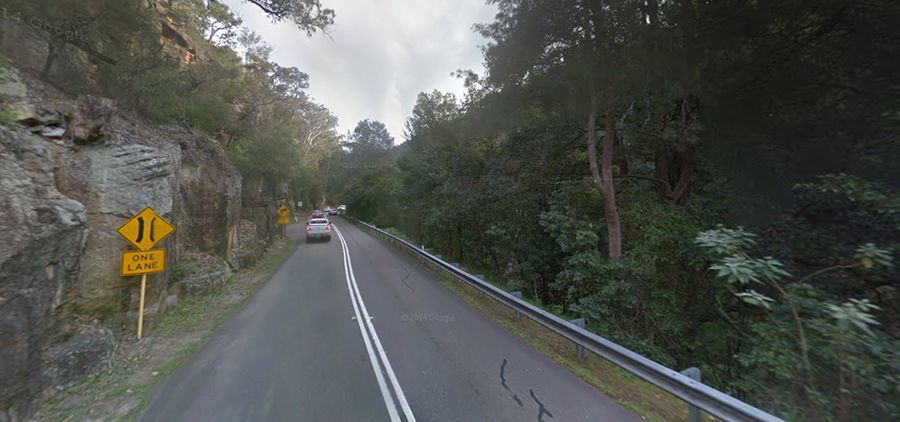 Galston Gorge Road is a famous narrow road located in the Galston Gorge, part of the picturesque Berowra Valley Regional Park in Sydney, Australia and separates Galston from Hornsby Heights. The road includes a serie of very tight hairpins, and it is prohibited to take any vehicle longer than 6.5m on this road and even then some need to back up to make the bends.
On this asphalted road, with many blind turns, you need to beware of cyclists, especially on weekends. The road contains a narrow stretch of road with a one-way wooden bridge across Tunks Creek (a tributary of Berowra Creek) and a series of very tight hairpins. Here traffic must wait for cars already on the bridge before crossing. Trucks, caravans, buses, and anything with a large turning circles are not allowed. It's more enjoyable to start from the Galston side rather than the Hornsby side - unless you enjoy having your foot on the brakes and navigating tight hairpins while going downhill for 5 minutes.
This road is very exciting. During heavy rain the Gorge is often transformed into a far more picturesque and natural drive with waterfalls and streams running alongside and sometimes even across the road. Care must be taken by commuters to drive carefully during wet weather for this heavy run-off can cause a car to slip into the guard rail. The entire length of the Gorge is enclosed by this guard rail on the Berowra Creek side of the road to stop a sliding car from falling down the steep slope.
The old Galston Gorge Crag offered some good routes but the increased traffic in the area makes belaying near the road a worry. There are five hairpin turns in the gorge, the first and last of them are the most gentle, however the three in between are tight. Vehicles with turning circles of 11m or less can make the turn without the need to swing onto the other side of the road. Those drivers that require to use the other side of the road need to do this before the bend when there is no oncoming traffic or wait at the cusp of the bend until there is room for them to do so. Other that the hairpin turns, it is imperative that all vehicles remain within the drawn lines of their lane to prevent head on accidents. Drivers can not assume they can use both lanes without first confirming safe passage. Inexperienced gorge drivers sometimes do neither of these and can become stuck between oncoming traffic and following vehicles, leading to a traffic jam until someone can reverse. This fact, coupled with the often narrow road precariously close to the rock beside the road- particularly going up to Galston side means the road has a fairly notorious reputation.