The Great Alpine Road is a country tourist road in Victoria, Australia, with a length of 303 km (188 mi). This asphalted road, officially known as B500, was opened in 1998 and runs from Wangaratta, in the northeast of Victoria to Bairnsdale, a small city in East Gippsland, Victoria. The road goes through the Victorian Alps. It's one of the most scenic drives in the world.
McKillops Road (officially called C611) is a spectacular drive located in the Snowy River National Park, in Victoria, Australia. It's said to be one of the most hazardous & dangerous roads to drive in the country.
Captain Cook Highway is a very scenic asphalted road that winds alongside the coast located in Queensland, Australia, with a length of 75 km (47 mi). It's one of the best coastal drives in the world.
The Old Telegraph Track is a rough road accessible only during the dry season in Australia, located on Cape York, in tropical north Queensland. The road has a length of 350km and it's definitely 4WD only. The track is generally narrow, with some sections being very rocky and eroded. It's what's left of the original telegraph track that was used in the 1880s to connect Cairns with Thursday Island.
Galston Gorge Road is a famous narrow road located in the Galston Gorge, part of the picturesque Berowra Valley Regional Park in Sydney, Australia and separates Galston from Hornsby Heights. The road includes a serie of very tight hairpins, and it is prohibited to take any vehicle longer than 6.5m on this road and even then some need to back up to make the bends.
The Outback Highway or Outback Way is one of Australia's great four wheel drive odysseys. It extends 2,800 km (1,740 mi) from Laverton, Western Australia to Winton, Queensland via central Australia. It's known as Australia's longest shortcut and is an adventure track you will never forget.
Eyre Highway is an asphalted highway in Australia, with a length of 1,675 km (1041 mi), linking Western Australia and South Australia via the Nullarbor Plain. It includes what is said to be the longest straight stretch of road in the country: 146.6 kilometres (91.1 mi) without any turn. For much of its length, it can be described as a long and lonely road.
Anne Beadell Highway is a challenging dirt track located in Australia, with a length of 1,340 km (833 mi). This outback unsealed track links Coober Pedy (in South Australia) with Laverton (Western Australia). The road was built by Len Beadell, who named the road after his wife.
Bridle Track is an exciting 4WD track located in Hill End, a former gold mining town in New South Wales, Australia, in Bathurst Regional Council. The Bridle Track runs from Duramana, northwest of Bathurst, to the old mining town of Hill End.
Macquarie Pass is one of the most famous roads in New South Wales, Australia. It's an eight-kilometre-long section of the Illawarra Highway passing through Macquarie Pass National Park. The road is narrow, and for the most part has no centre-line; although centre-lines have been recently added in a couple of sections. The pass is quite notorious for accidents due to its nature, and drivers and riders are required to be cautious.
The Bloomfield track is a 33km off-road 4wd track that winds its way through the majestic Daintree Cape Tribulation Rainforests discovering the beautiful Bloomfield Falls and natural waterholes in Australia.
The Street with No Name is located in Annandale, a suburb in the Inner West of Sydney, in the state of New South Wales, Australia. Locals claim there is something inexplicably evil about the viaduct and surrounding park, particularly at night. Some say an eerie presence can be felt, others tell tales of bizarre behaviour displayed by small children and dogs that visiting the area. It's one of the Top Haunted Roads in the world.
The Buntine Highway is a 570 kilometre highway in the Northern Territory and Western Australia, Australia. It was named after Noel Buntine in 1996.
Billy Goat Bluff trail is a challenging 4wd fire trail located in the Alpine National Park, in Victorian High Country, Australia. Ascending 1,200 metres in only 7 kilometres, this steep track edged with cliff faces is known as one of the tougher climbs in the high country.
Hyden Norseman Road is a very scenic drive in the Goldfields-Esperance region of Western Australia. The road stretches 300 kilometres between Hyden and Norseman.
Through the vast deserts of Western Australia, the Canning Stock Route is one of the toughest and most remote tracks in the world. It runs to Halls Creek in the Kimberley region from Wiluna in the mid-west region, both in Western Australia. With a total distance of around 1,850 km (1,150 mi) it is also the longest historic stock route in the world. Perhaps the world's remotest road, it traverses empty desert and is a popular journey for adventurous petrolheads.
With a total length of 381 km (237 mi), the Carpentaria Highway is a very scenic journey running between Daly Waters an Borroloola in the Northern Territory of Australia.
The Talawana Track is a stunning isolated desert track with a length of 596 km (370 mi) located in Western Australia. This track connects Newman and the vast Pilbara Region with the middle of the Canning Stock Route, and then continues south to meet the Gary Highway at Windy Corner. The track was built in 1963.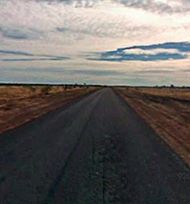 Commencing at Dimbulah, approximately 120km west of Cairns in Far North Queensland, the 1079km long Burke Developmental Road crosses the base of Cape York Peninsula to Normanton at the southern end of the Gulf of Carpentaria, before heading south to Cloncurry, approximately 100km east of Mt Isa.
With a length of 1,053km, the Tanami Road, sometimes referred to as a "track" is a major link between Central Australia and North West Western Australia, commonly known as the Kimberley. The Tanami Road, also known as the Tanami Track and the McGuire Track, is the most direct route just north of Alice Springs to Halls Creek in the Kimberley, passing through the Tanami Desert.
Dargo High Plains Road is a legendary gravel road with a length of 70,4km, located in Victoria, Australia. Although suitable for 2WD cars, can be rough and dusty in sections and slippery after rain.