Halsema Highway was considered one of the most dangerous highways in the world. Everyday, commuters, transporters, tourists, and residents coming from Baguio or Mt. Province drove this route, braving steep crags, narrow and sheer drop offs, some more than 1000 feet. But the road has now improved, and it's a lovely trip by an asphalted road tracing a circuitous path, that crosses the massive Cordillera Central mountain range on the Island of Luzon.
Located in the province of Cagayan in the Philippines, the Buntun Bridge is one of the most spectacular bridges in the world. It is said that the bridge is long enough for a person to recite the entire Philippine National Anthem while walking here.
The Sibuyan Circumferential Road is a very scenic (and challenging) road located on the Sibuyan Island of Philippines, in the province of Romblon.
Kennon Road is a very scenic highway located in northern Luzon island of the Philippines. The roadway, with a length of 41.2 km (25.6 mi), links the mountain city of Baguio, at an elevation of 5,500 feet (1,700 m) above the sea level, and the lowland town of Rosario in La Union province.
Malabrigo-Laiya is a short coastal dirt track located in Batangas, on the southwestern part of Philippines.
Mount Santo Tomas is a stratovolcano at an elevation of 2.224m (7,296ft) above the sea level, located in the province of Benguet, on Luzon Island of the Philippines.
Patapat Causeway Bridge is one of the most scenic and most photographed destinations in Ilocos Norte, in the Philippines.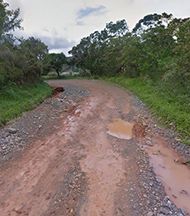 The Bongabon-Baler road is a very exciting and challenging drive on the island of Luzon, in Philippines. During and after a storm the road may be impassable, even with a four-wheel-drive vehicle.
Mount Pulag is a high mountain peak at an elevation of 2.480m (8,136ft) above the sea level, located in the province of Benguet in the Cordillera Administrative Region of the Philippines, on Luzon Island.
Located in the heart of Quezon City, Commonwealth Avenue, nicknamed as the "Killer Highway" of the Philippines, is one of the most dangerous roads in the world. This road has terrible to non-existent regulations, along with its extremely heavy traffic, which leads to many hundreds of accidents amongst cyclists, pedestrians and motor vehicles each year.
The zigzag road acts as a gateway between Northern Quezon and the South. It is one of the most dangerous ways in the Philippines. Most of the drivers even fear traveling by this path. It can be an adventure for some, but it does carry elements of risk.
The Tagaytay-Talisay Road is a mountain road located on the Philippine island Luzon. The road is asphalted.