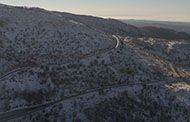 Mount Hermon is a high mountain pass at an elevation of 2.073m (6,801ft) above the sea level. It straddles one of the world's most infamously contested borders. On one side of the mountain is Israel, and on the other side are Syria and Lebanon.
HaMakhtesh HaGadol is a big crater located in Israel's Negev desert. It measures 5 x 10 km.
Border Road #10 is an asphalted highway which travels parallel to the border fence between Israel and Egypt. The road has been closed to all civilian vehicles who have not coordinated their plans with the IDF in advance.
Ma'ale HaAtzmaut is a short section of the Highway 40 located in the Negev desert of southern Israel.