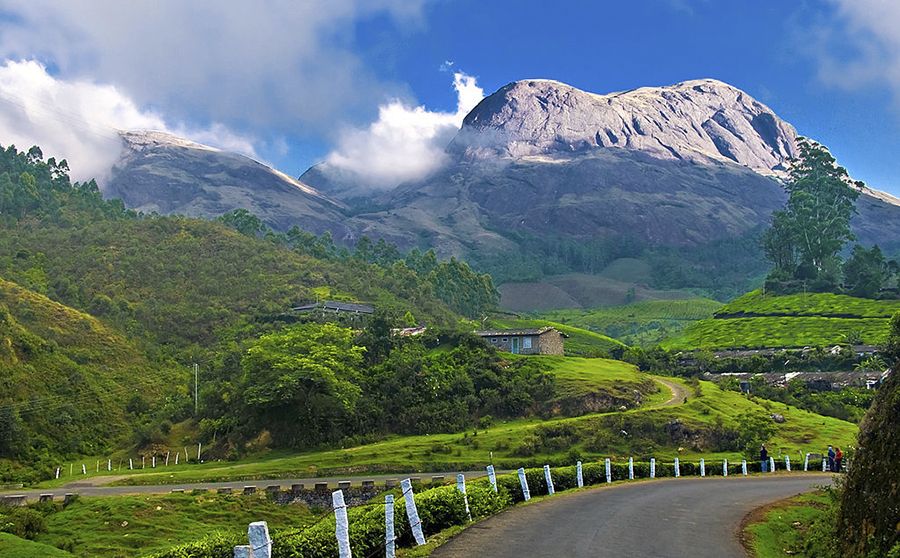 Munnar road is the name of the sharply winding and precipitous ascent in a a steep and narrow zig-zag road starting from Kochi, with a length of 130 km (about 3 hr). Although the road is smooth (NH 49), it is narrow, twisty and curvy. Kothamangalam is on the way and is 80 km away from Munnar. Between Kothamangalam and next town "Adimali", you can experience a beautiful cool drive through a natural forest. Alongside, you can see many refreshing waterfalls.
Munnar is a popular hill-resort town in the southwestern state of Kerala, India, at an elevation of 1.700 m (5,600 ft) above the sea level. The town is located on the Western Ghats, situated in the Idukki district.
The road is certainly breathtaking and it has a fearsome reputation. Allow 6 hr traveling time if you are driving up or down, since the road is blind in some places and there are a lot of trucks and buses that seem to drive as if they own the road. Once you reach Adimali, Munnar is just 30 kilometers away - but it will take almost an hour to reach. This is the last place where you can spot a decent restaurant before Munnar. Around 22 km from Adimali, you can start seeing the tea plantations on both sides of the road and a panoramic view of the western ghats. The view is extremely beautiful during the early mornings.
The road is winding, in some places only wide enough for one vehicle, and in many places bordered on one side by cliffs and on the other side by a drop of hundreds of meters (many hundreds of feet). While driving on the Munnar road, you are ensnared in the sweet fragrance of the fresh tea leaves from innumerable tea plantations. But the road to Munnar is narrow with lots of bends and curves. Hire a taxi or a driver with local experience if you are not familiar with similar conditions.
Pic: By Bimal K C from Cochin, India (Good Morning Munnar) [CC BY 2.0 (http://creativecommons.org/licenses/by/2.0)], via Wikimedia Commons