Located in the remote and still pristine wilderness area of the Musandam Peninsula, in Oman, Khor an-Najd is the only khor accessible by vehicle (only 4WD).
Wadi Bimmah (aka the Snake Canyon) is a very scenic canyon located near Balad Sayt in Wadi Bani Awf, in the South Batinah Governorate of Oman. The road is extreme. Only 4x4, and even these cars can not make it sometimes if you are not a good driver.
Located in Wadi as Shatan, in northeastern Oman, the Al Mahda dead end track is a very steep and scenic drive.
Wadi an Nakhur is the deepest canyon in the Middle East. It's located in northeastern Oman north of Al Hamra town.
The Madaba - Al-Karak road (part of the Route 35) is one of the most scenic drives in Jordan. There are sheer drops virtually along the entire route and enough hairpins to make a whirling dervish dizzy.
Located in the Al Sharqiyah region in northeastern Oman, Wadi Arbaeen is one of the most amazing Oman wadis. Drive slow and safely and some heights and curves are sharp.
Located in the Al Batinah Region of northern Oman, the road is a very scenic journey. The road is asphalted with breathtaking views.
Jabal al-Lawz is a high mountain pass at an elevation of 2.391m (7,844ft) above the sea level, located in northwest Saudi Arabia.
Al Baha's 25 Tunnels is a sharply winding zig-zag road located in the south west of Saudi Arabia. This tourist drive consists of 25-tunnels at different lengths and elevations.
Quran is a cliff-hugging village located in the Ad Dakhiliyah Region of Oman. The route to the town is one of the most memorable drives in Sharqiya The route is strictly 4WD and is not for the faint-hearted as the last part of the ascent is a near-vertical climb with sharp hairpin bends.
Located within the Hajar Mountains of Oman, the international mountain road linking Murbah and Masafi is an epic adventure.
The Baljurashi-Mekhwa road is a very scenic drive in the heart of the Al Bahah Region, in south-western Saudi Arabia.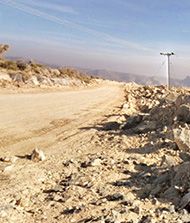 Qiyut is a high mountain town at an elevation of almost 2.000m above the sea level, located in Ad Dākhilīyah, Oman.