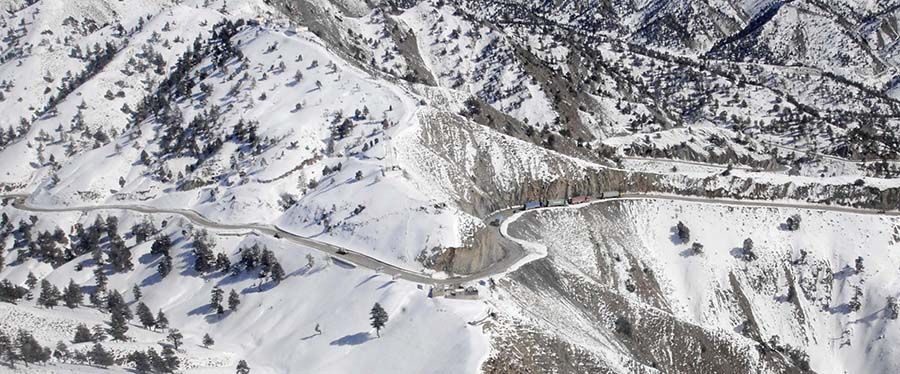 The Khost-Gardez Pass, frequently abbreviated as the K-G Pass, is a high mountain pass at an elevation of 9,413ft (2.869m) above the sea level, located in the Hindukush Mountains, in Afghanistan.
The pass is the main land route connecting the Afghan province Khost and Gardez, the capital of Paktia province. There are sheer drops virtually along the entire route and enough hairpins to make a whirling dervish dizzy. On top of all that, the surface is crumbling gravel and it's mightily narrow - just about enough space for one vehicle in some places. The pass currently consists of a rutted dirt road, though it is slowly being improved by construction crews as part of the international reconstruction effort in Afghanistan.
The road starts in Khost (or Khowst) in eastern Afghanistan, capital of Khost Province,. After 102km, going through the Khost-Gardez Pass, the road arrives to Gardēz, the capital of the Paktia Province, at an elevation of 2,300 m (7,500 ft) above the sea level. The unpaved sections of the road can be impassable when wet. In any case, driving 4WD is recommended due to uneven surface. During and after a storm the road may be impassable, even with a four-wheel-drive vehicle and can easily get muddy if it rains making it challenging to get through. The Khost-Gardez Pass (or KG Pass) has been in use since Antiquity, serving as one of the main routes connecting Kabul to locations in India.
During the Soviet occupation the pass was a frequent location for mujahadeen attacks on Soviet convoys. This road receives a high amount of snowfall in winter months, and it can be closed when the access is not cleared of snow. It's largely arid during the rest of the year. The road's narrow, bumpy surface deters all but the most determined drivers. American leaders have made repaving the so-called KG Pass Road a national priority to bring Khost and other previously neglected areas back into the fold with the rest of Afghanistan!