Fancy yourself as a top-notch driver? We all love dangerous roads and road trips. Sometimes the road less taken is less taken for a reason. In the case of these 12, it's because they may very well kill you. Go for a ride! Some roads require a lot of skill just to pass through them and stay alive. Read for an in-depth look at the most terrifying and dangerous roads.
This list is about them. After 7 years online, our readers voted the 12 most dangerous roads in the world. Most of them will likely convince you that walking isn't really that bad after all. If you find yourself on any of these roads, keep a foot on the brake at all times.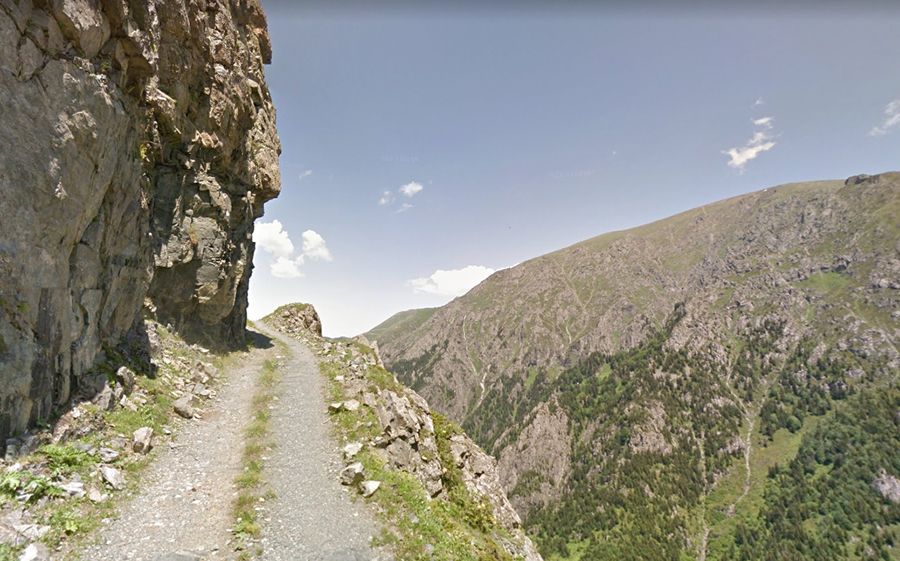 Bayburt Of Yolu-D915. Located in the Trabzon province of Turkey, D915 is one of the most challenging roads in the world with 29 steep hairpins turns, climbing up to 2.330m (7,644ft asl. Snow and fog are common. Built in 1916 by Russian soldiers it's a curvy roads descending down the cliffs. Gravel and very narrow with dangerous dropoffs (300 meters) and sections up to 10%.
Killar-Kishtwar Road. Terrifying high mountain trail, with a length of 114 km, located in Jammu and Kashmir, India. If your GPS ever thinks it's a good idea to drive on this road, it may be time to get a new one! It's a narrow, windy road with no guard rail or secure edging for about 100 miles, with views of the valley thousands of feet below. Pic: Leopold S
Khaltaro Valley Road. Located in northern Pakistan, it is one of the scariest roads ever. Imagine a narrow gravel road, very steep (up to 15%) with horrendous drops on both sides. Welcome to hell! Only the suicidal, the insane, or the paid-to-do-this should ever drive down. The road remains covered by snow seven to eight months of the year. Pic: Adnan Alam Awan
Engineer Pass. Located in the San Juan Mountains of Colorado, in USA, at an elevation of 3.901m (12,800ft) asl, it's one of Colorado's most scenic offroad drives. It's mostly a first gear ride because the road is rough and rocky. Recommended for high clearance four wheel drive short wheel base, it is really too narrow for a 4WD pickup truck. The season generally runs from late May to late October.
Cirque de Jaffar. Cirque de Jaffar is a natural cirque located in the Eastern High Atlas, in central Morocco. The road to this amphitheatre is one of the most dangerous roads in the world. It's incredibly disorienting to look over the edge, or even just to see the valleys a couple thousand feet below you. Drivers must remain cautious as the pass has been known to claim the lives of careless drivers. Pic: JARMCXDXT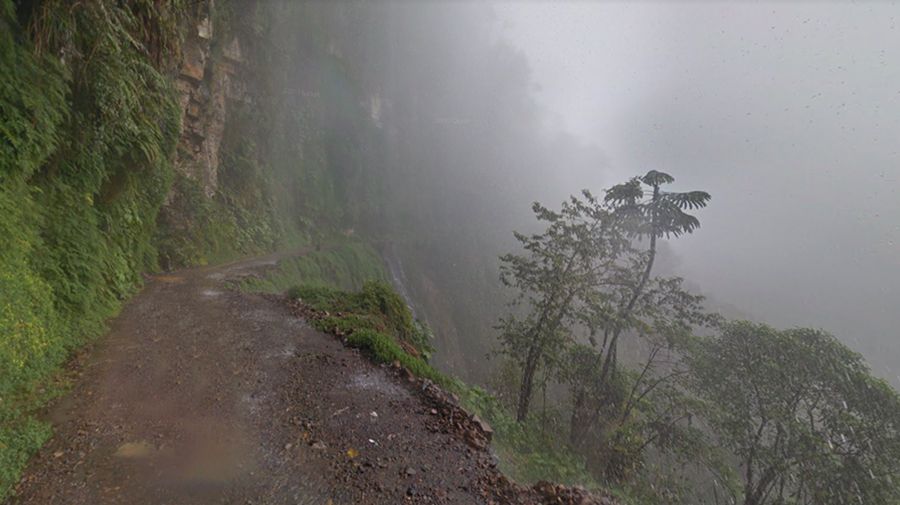 Death Road. Considered the "World's Most Dangerous Road" it's estimated that 200 to 300 people traveling on it died each year. The thin road climbs jungle-clad mountains to a height of 4,650m, winding and turning all the while with nauseatingly deep canyons below. Dozens of vehicles went off the road each year, and with vertical drops of up to 1000m over the edge, annual fatalities reached into the hundreds.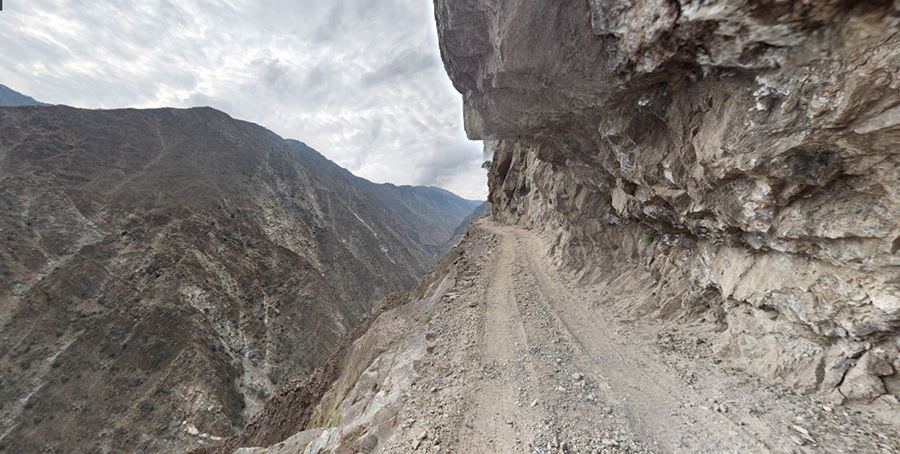 Fairy Meadows Road. With a length of 16,2km, located in the Gilgit-Baltistan region of Pakistan, the gravel road is completely unmaintained, there are no guardrails to protect you, and it gets so narrow that near the end you'll have to cover the last section by walking or biking. Drivers must remain cautious as the pass has been known to claim the lives of careless drivers. Pic: Javed Azam
Austrian Road. The Austrian Road, so-called because it was built by Austrian POW's during WW1 in 1915, is a marvel of engineering located in the Altai Mountains of East Kazakhstan. It's a legendary track through a remote wilderness in the far northeast of the country, under highly unfavorable climatic conditions.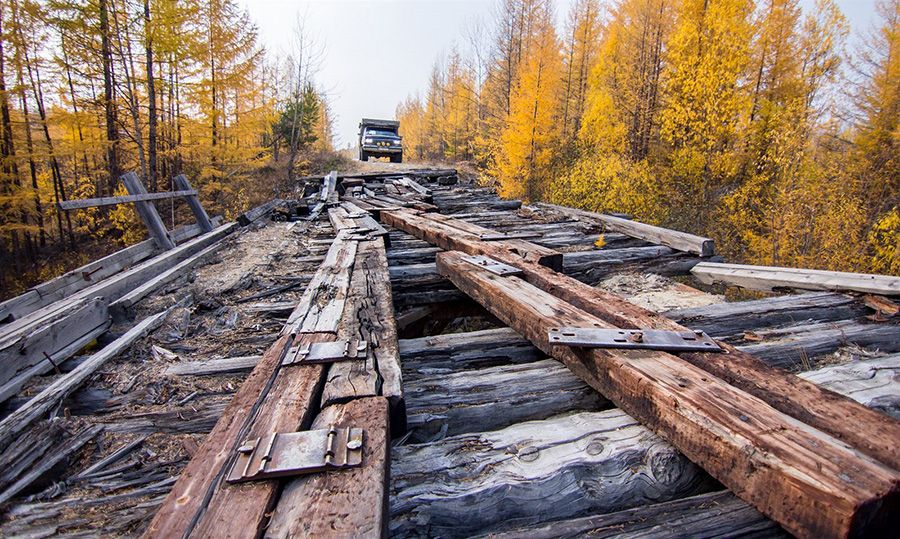 BAM road. The BAM Road is one of the toughest adventure roads left on this planet. It's a real test of physical and mental endurance. It is an old railway service track that runs roughly alongside the railway track, in extreme Siberia, Russia. It's filled with everything from rickety old bridges to waist high water crossings and at points being miles from civilisation. Pic: https://1gr.cz/fotky/lidovky/17/051/lnorg/APE6b0a9a_IMG_1961_4.jpg
Skippers Canyon Road. The Skippers Canyon Road, located in the south-west of New Zealand's South Island, is today one of New Zealand's better known scenic roads and unbelievably scary as it's totally narrow and different to manouvre your car. This gravel road, with a length of 16,5 miles, carved by hand by miners over 140 years ago is made from a very narrow cut in the middle of a sheer cliff face. It's a road so dangerous that your rental car insurance won't be honored if you drive on it.
Route 622. It is one of the most dangerous roads in the world. Located in northwestern Iceland, some say it's the most terrifying road in the country. That is an insanely beautiful route to take with the road carved into and under cliffs and great mountain views all the way. If you have a Jeep, 4x4 experience, time and steel nerves, It is possible to drive this road. Usually washed away in winter storms Open from May to October, with overhanging rocks right on the edge, it's only passable on low tide. Pic: https://guidetoiceland.is/connect-with-travel-bloggers/bas-brand/day-7-of-3-week-iceland-trip
Abano Pass. Located in the central part of the Great Caucasus Mountains of Georgia, at an elevation of 2.850m (9,350ft) asl, Abano Pass is the highest drivable mountain pass in the Caucasus. The road, connecting Kakheti region with Tusheti region, was built in 1978 and it's open from May to October. It is well known as a "death road" because of many fatal accidents. Pic: levani abulidze