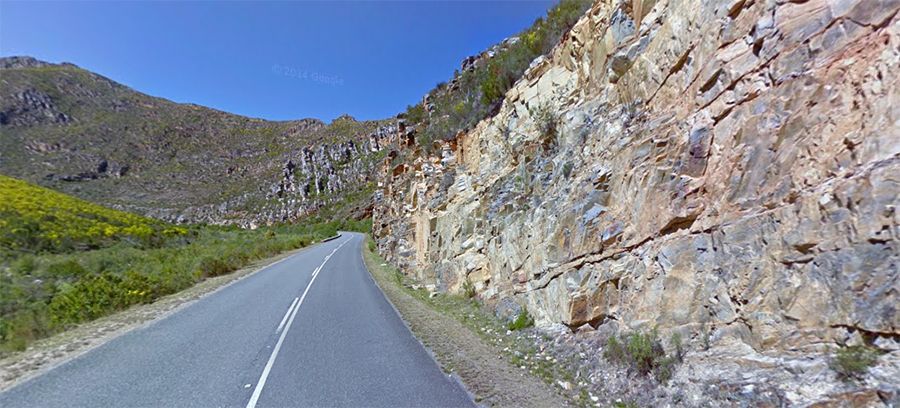 Tradouw Pass is a mountain pass at an elevation of 347m above the sea level, located between Barrydale and Swellendam, in Western Cape, South Africa.
The road over the pass is asphalted. It's called R324, and the pass lies approximately halfway between Swellendam and Heidelberg. The Tradouw Pass is one of thirteen passes that master road engineer Sir Thomas Bain built in the Southern Cape during the 1800's. Tradouw means 'footpath of the women' in the Khoi language.
The drive is definitely worth it. There are many excellent photo opportunities here. Don't forget your camera! Tradouw Pass is truly a beautiful pass, with breathtaking scenery throughout the year. In summer the pass has scattered pools to swim in, in autumn the aloes bloom and cover the pass with clusters of the blazing red flowers, in winter the waterfalls cascade down through the mountains and in spring.
This infamous road is tightly hairpinned and bumped, an exquisite winding mountain drive with sharp and blind curves and hairpin switchbacks leading the traveler over the mountains. The Tradouw Pass (which means Womens Path in the old Khoi language) is a 17 kilometer drive through an altitude range of 219 meters through some of the most beautiful and rugged mountain scenery on offer in the Langeberg. Thomas Bain's Tradouw Pass is a masterpiece. A drive through this wonderfully rugged terrain will soon acquaint you with why he was known as 'the man with the theodolite eye' (an instrument used to measure horizontal and vertical angles), for the pass' sheer magnificence is inspiring.