Located in southern Namibia, the gravel Kismayo - Bardera City road is said to be the most dangerous road in the country due to illegal checkpoints, militias, rapists, wild animals, daily accidents, narrow and steep passages, and broken tarmac.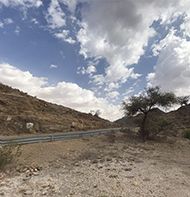 Sheikh Pass is a high mountain pass at an elevation of 1.497m (4,911ft) above the sea level, located in the autonomous region of Saaxil in Somaliland in Somalia.
Located in north Eastern Somalia, the Geeldora Road is an epic adventure only for 4wd vehicles. The road is gravel and rocky. It's 90km long.
Located in the Al Madow mountain range in northern Somalia, the Maydh - Erigavo is a high mountain track. The road is gravel. It's 76.6 km long and links Maydh, an ancient port city and the town of Erigavo, also spelled as Erigabo. 4x4 recommended.
Located in northern Somalia, the Lafogoray Road is a very exciting beach road.