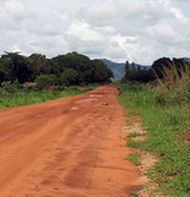 Estrada Nacional 8 (EN8) is a long road in Mozambique, with a total length of 707km, linking the cities of Nacala-Porto and Chiponde. The road, a dirt track for hundreds of kilometers, includes asphalt and gravel sections.
Mozambique Island Bridge is a historically significant concrete bridge linking the Mozambican mainland and "Ilha de Moçambique"(Mozambique Island). It's one of the most spectacular bridges in the world.
Poelela lake is located in southern Mozambique. The road to the lake is called Lagoa Poelela Road.