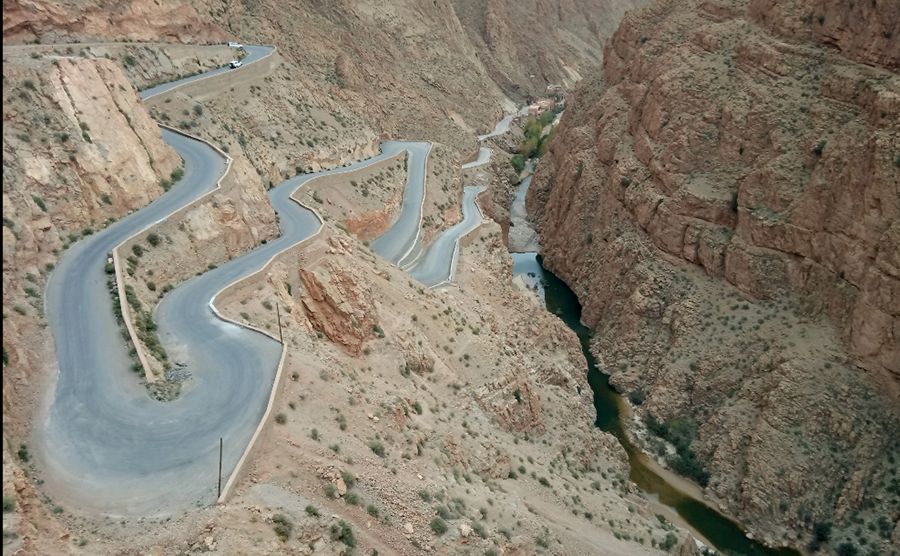 Road of a thousand Kasbahs is a spectacular drive winding through stunning desert landscapes, villages and palm groves through the Dades Valley between the Atlas Mountains and Anti-Atlas mountain range, in Morocco. The drive is spectacular, with hundreds of Kasbahs lining the route, winding through stunning desert landscapes, villages, palm groves, and with the expansive Jebel Sarhro lunar-scape to the south. It's one of the most scenic drives in the world.
The road runs from Ouarzazate and stretches 100 miles to the east to Tineghir and the Todra Gorge. The travellers in a 4WD vehicle can follow a thrilling mountain loop (weather permitting), following Dades Gorge as far north as Agoudal, then turning south to head for Todra Gorge. The Dades Valley has a wild landscape, with snow on one side and semi-desert on the other, its savage grandeur and unearthly silence can be equalled only by the Grand Canyon.
The easiest way to reach the Dades Gorge is from the small town of Boumalne, located 116 km northeast of Ouarzazate and 53 km from Tinerhir. A sealed road runs for 63 km through the Gorge as far as Msemrir. After that point, a 4WD vehicle is necessary. The Dades Gorge lies along the dry but colourful Dades Valley, around 2 hours (around 100km) north east of Ourzazate, and cuts northwards into the High Atlas. The Dades River flows through the valley quenching a miraculous, winding path of fruit, walnut, wheat, silver birch and almond trees, set against an extraordinary backdrop of spectacular rock formations.
The road is in dreadful condition and requires strong nerves to negotiate it. Any barriers along the edge afford little more than token protection. You will be driving just 12 inches from the side of the mountain, and there is a steep, steep drop below you and there's no form of barrier to keep you on the road if anything were to go wrong… This winding road is frequently included in lists of the most dangerous roads – and let's just say that Moroccan drivers are not exactly the safest.
The best time to visit the lower valleys is from March to May and the mountains are best from May to July. The gorge starts just north of the town of Boumalne du Dades, a peaceful town, from where a road snakes into the gorge. The gorge has several kasbahs, but it is the stunning rock formations that are of particular note for visitors, and it is worth some time on foot to get close to these.
The winding road along the canyon of the Dadès River is called R704. It's paved but full of hairpin turns, and is pretty steep in some sections. The river has carved out beautiful deep gorges, flowing at the foot of vertiginous walls and bordered by a thin strip of greenery. Make use of the many overlooks on the road where you can peacefully enjoy the superb panoramas!
Due its unique location and passing through remote areas, it is important when driving in these conditions to be prepared. The R704, 'Road of a Thousand Kasbahs', follows its path, in some places climbing the sides of the gorge in a series of violent hairpin bends. The word Kasbah in this context means fortress. There certainly are a vast number of such buildings. They have usually been constructed by a local leader both to protect his land and as an indication of their wealth. They often have high windowless walls and crenellated towers. There are many excellent photo opportunities here. Don't forget your camera! The red hues of the stark mountain scenery contrast with the softer green of the fertile valley floor, ringed and protected by mud-brick walls and fortresses.
Pic: Abdelmjid Bahrar