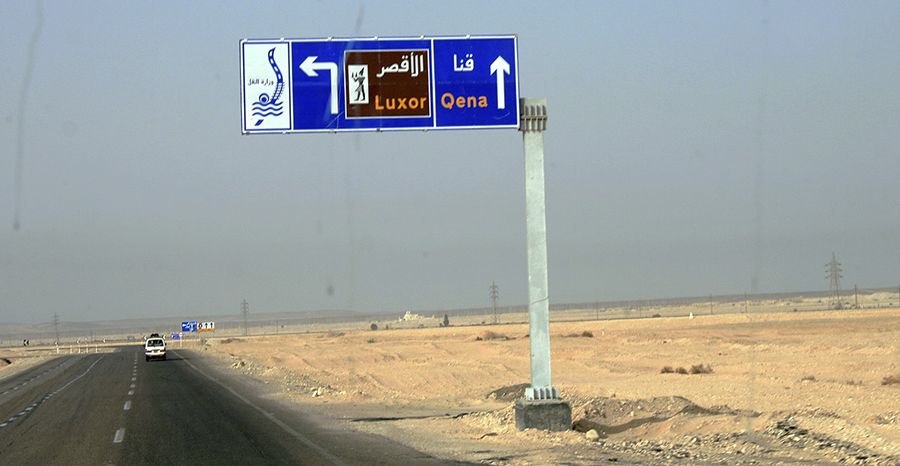 The road that links the ancient city of Luxor in southern Egypt and Hurghada, the regional hub for several scuba diving resorts on the Red Sea, is a death trap. It's extremely dangerous with many head-on collisions and fatal accidents due to drivers not turning on their head lights. The reason for drivers keeping their lights off is because bandits and terrorists patrol the roads and shoot at drivers.
On this road between these 2 touristic centers, bandits, terrorist attempts to undermine the tourism industry, and frightened drivers have all combined to turn this asphalted road into a major nightmare. The violent attacks along this road are dangerous enough by themselves. And if the bandits don't get you, the terrorists probably will. On 17 November 1997, six gunmen from the Islamic group Jihad Talaat al-Fath, shot and killed 62 German tourists in Luxor in a massacre that resulted in a massive government crackdown that endures today. It's paved, marked, and appears to be relatively safe and the drive time is just 4 hours, 37 minutes.
Driving in Egypt is very different to driving in other countries. There seems to be no set rules of the road, so to speak. The journey from Hurghada, a main tourist center and third largest city in Egypt located on the Red Sea coast, to Luxor, frequently been characterized as the "world's greatest open air museum", as the ruins of the temple complexes at Karnak and Luxor stand within the modern city, is through a mainly inhabited landscape and if you had a breakdown that could be a problem.
The experience of using this road is very impressive. What sometimes makes the road even worse is the fact that most people who drive at night don't use headlights for fear of announcing their approach. Yes, it could be a great way to avoid unseen enemies, but it also invites other disasters in the form of head-on collisions. In Egypt, most of the drivers never turn on their headlights after the sun goes down, setting the stage for the high accident fatality rate that has earned the road a spot on this list. At night, drivers speed across the dusty desert with their headlights off, setting the stage for head-on collisions. Ironically, the only thing more dangerous than driving on the Luxor-Hurghada Road at night with your headlights off is driving at night with them on. Bandits, brigands and even terrorists patrol the road in the darkness in search of easy prey. Invisibility might save you from one threat, but there's a good chance it will deliver you into the hands of another. Consider buying some of those night vision goggles if you plan to drive this road after dark.
Pic: By Karelj (Own work) [Public domain], via Wikimedia Commons