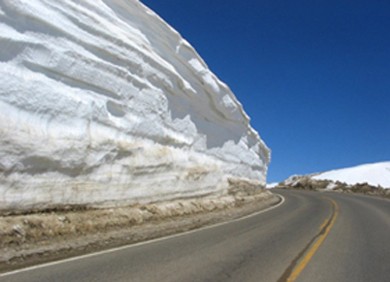 Loveland Pass is a high mountain pass at an elevation of 11,990 feet (3.655 m) above the sea level located in the Rocky Mountains of north-central Colorado, USA. It's said to be the highest mountain pass in the world that regularly stays open during a snowy winter season, but avalanches and heavy snowfalls can sometimes block some sections of the road. It's one of the highest mountain roads of Colorado.
Located in Summit County, the road to the summit is called U.S. Highway 6 (Loveland Pass Road). Loveland Pass in the winter can be downright terrifying at times. A steep, steady 6.7% grade, along with numerous hairpin turns on either side, make it difficult to snowplow the road regularly. The pass is well known for its treacherous winter conditions, and the weather only gets worse as you climb higher in elevation. This road has humbled many egos. It's not for the sissies.
There's a high risk of avalanches near the summit. Drive with care as this is a mountain road with hairpin curves and dangerous dropoffs. Since 1973, most traffic on nearby Interstate 70 has been able to avoid the pass by taking the Eisenhower Tunnel, but trucks measuring 13 feet 5 inches in height or more, or those hauling hazardous material have to take the high road, which is 800 feet above the tunnel. The climb is simply terrible, with a notorius lack of oxygen that tests the organisms. Most people feel altitude sickness at around 2,500-2,800 meters.
The road includes some steep sections. The surface of the road is asphalted, and chains or snow tyres can be required anytime. When the Eisenhower Tunnel (a dual-bore, four-lane vehicular tunnel) opened in March 1973, it allowed motorists on Interstate 70 to avoid crossing the pass directly. The experience of using this road is very impressive. The pass was named for William A.H. Loveland, the president of the Colorado Central Railroad.
The pass is located on the Continental Divide in the Front Range west of Denver on U.S. Highway 6. The twisty road is considered to be especially treacherous during the winter months. Driving up over Loveland Pass is quite the experience. It is a fairly steep climb with hairpin turns and amazing views down into the valley of I-70 below. It can be a little scary though, since most of the views are not blocked by a guard rail and it is easy to imagine yourself careening down the mountain. Many, many switchbacks with no guardrails and will snow in August up there. Very treacherous but very beautiful also if you allow yourself to take your eyes off the road for 1 or 2 seconds at a time.