Shafer Trail Road-Shafer Canyon Road is a 18 miles dangerous dirt track located in Moab, a city in Grand County, in eastern Utah, in the western United States. It requires extreme caution at the best of times for vehicles and mountain bikes, but especially so in inclement weather and at night.
This road has humbled many egos. It's not for the sissies and shouldn't be attempted by novice drivers. The road is in dreadful condition and requires strong nerves to negotiate it. It's certainly breathtaking and it has a fearsome reputation. It still remains an adrenaline-pumping journey and is definitely not for the faint of lungs, heart, or legs. Words can't describe the road and pictures don't do it justice. This is a great trail for someone who is looking for an off road experience, but doesn't have access a highly modified rock crawler. Virtually any four-wheel drive vehicle will succeed in navigating this well maintained road. Highlights of this trip include well marked Indian petroglyphs and amazing natural stone arches. You'll also have an opportunity to tackle the Schafer Switchbacks, a breathtaking climb with expansive views of the surrounding canyon-lands.
There are some narrow sections -scarcely wide enough for two cars- where if two vehicles have to pass each other, one might have to reverse for some kilometres of winding narrow road to get to a place wide enough to pass. It shouldn't be attempted by those who don't know how to reverse. The road is difficult and it's a nightmare in the wet or dark (or both). The Shafer Trail provides access to the White Rim Trail as well as other areas in the park and is perhaps one of the most challenging journeys through the park. It requires extreme caution at the best of times for vehicles and mountain bikes, but especially so in inclement weather and at night. Although the road has been greatly improved by the National Park Service, the Shafer Trail is still extremely steep and it travels along the tops of sheer cliffs.
This track can get very muddy and slippery after rain making it challenging to get through. During and after a storm the road may be impassable, even with a four-wheel-drive vehicle. It is very important to drive slowly and pay attention to the road and other drivers while traveling along this trail. The Shafer Trail is slippery and often impassible when wet or icy. A very famous point of the trail is the Thelma and Louise Point, where they filmed the famous scene in "Thelma & Louise" when they jumped their car off the edge and into the canyon. The final scene is not the Grand Canyon. The view is one of the most photographed scenic vistas in the world. Towering 2,000 feet above the Colorado River, the overlook provides a breathtaking panorama of Canyonlands' sculpted pinnacles and buttes. Numerous commercials, and more recently music videos, have been filmed here.
Do not travel this pass in severe weather conditions. Avalanches, heavy snowfalls and landslides can occur anytime, being extremely dangerous due to frequent patches of ice. It has a well-deserved reputation for being dangerous because of unpredictable snowstorms and blizzards, and driving under these conditions, can be extremely challenging.The Shafer Trail road was originally built by uranium miners to transport ore extracted from the Triassic Chinle Formation during the middle part of the twentieth century. The mining road followed the path of a large natural rockfall that buried part of the typically cliffforming Wingate Sandstone. From Moab, head north on Highway 191. Turn left on Potash Road\ Highway 279. Continue south on this road for about 16.5 miles until the pavement ends. You'll find the trailhead here. Large, sharp rocks require tight maneuvering, increasing the likelihood of tire damage.
Your wheels will be astounded at the wonderful views of the mountains spread out before you! They are terrible for drivers who are prone to vertigo. Carry extra fuel and be prepared to self-rescue. During winter, all vehicles are advised to carry chains. In many places the road is bordered by a drop of hundreds of meters (many hundreds of feet) unprotected by guardrails.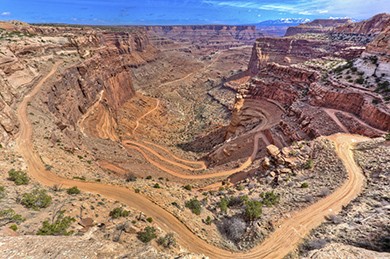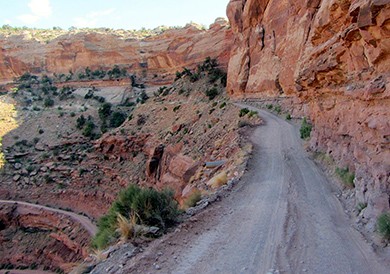 A 4WD vehicle and an experienced driver are recommended. Avoid driving in this area if unpaved mountain roads aren't your strong point. Stay away if you're scared of heights. It is recommended that beginner riders avoid this road. There are sheer drops virtually along the entire route and enough hairpins to make a whirling dervish dizzy. A quick glance at the map at its sheer drops and serpentine twists and turns, confirms that this is no hype.