Located right at the Arctic Circle in central Siberia, Russia, crossing the bridge over the Nadym River (which is frozen for six months of the year) is a hair-raising drive across a waterlogged very rickety pontoon bridge for summer use only. It's one of the most spectacular bridges in the world.
The bridge that spans the Nadym River is submerged by over a foot of water in parts. This half-submerged bridge doesn't look like something we'd ever volunteer to drive on. It's the stuff nightmares are made of. The Nadym River freezes over between October and May every year and local reports cite plans to replace the rickety crossing with a hovercraft service.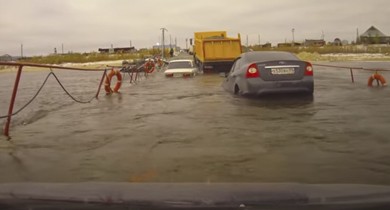 The construction of a new pontoon bridge crossing over the Nadym River, a left tributary of the Ob River, has started to relieve the traffic along the only existing floating bridge. A new fixed bridge for combined road and rail use is to be finished soon.