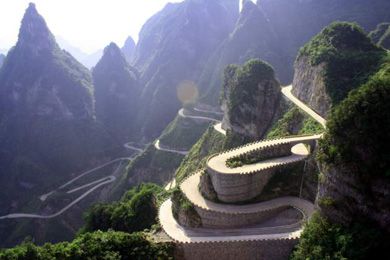 Tianmen Shan Big Gate (also called the Tianmen Winding Mountain Road) is a road located within Tianmen Mountain National Park, Zhangjiajie, in northwestern Hunan Province, China. 
The road to reach the top is 11 kilometres (6.8 mi) long from the bottom to the top. The highest point of the road is 1.300m above sea level, and the lowest point is 200m. The road took eight years to finish with work starting in 1998, and finishing in 2006.
To get there, you need to drive up Tongtian Avenue (Avenue toward Heaven), which has 99 turns, symbolizing that Heaven has nine palaces. There are also 999 stairs, called Tianan stairs (also known as Tianti, or the Celestial/Heaven Reaching Ladder), to climb before you reach the peak, where Heaven's Gate—a natural rock arch that was believed to be the link between the gods and the mortal world—awaits . And there's no platforms for stopping.
The road still remains an adrenaline-pumping journey and is definitely not for the faint of lungs, heart, or legs. A quick glance at the map, at its sheer drops and serpentine twists and turns, confirms that this is no hype. The driver should be extra careful during the drive. Taking it slow and paying attention to every curve and turn. Not being overly careful could make it too easy to junk a car, or worse injure and even kill passengers. The drive is definitely worth it. Don't forget your camera!
This road is very exciting and sometimes very exposed and unsecured driveway in innumerable twists and turns. This infamous road is tightly hairpinned and bumped, an exquisite winding mountain drive with sharp and blind curves and hairpin switchbacks leading the traveler over the mountains. The scenery looks beautiful, but take your eyes off the road for a second, and you're on the fast way down to the bottom. The roads are scary with many twists & turns & certainly not for the faint-hearted. The road is difficult and it's a nightmare in the wet or dark (or both).
The experience of using this road is very impressive. The road's winding design, providing stunning panoramic views, is very curvy and fun for a leisurely ride, so it pays to take it slow. Exercise extreme caution when passing on-coming traffic, over-taking and around corners. It's an absolutely 'must see' scenic area. The main featured scenic spots are centralized in the north part of Zhangjiajie City – Wulingyuan Scenic Area which became China's first National Forest Park in 1983. Drive with your headlights on at all times as it is easier for oncoming vehicles to see you.
It's a real challenging road and a true test of your vehicle and your stamina because the road abounds in twists and turns with wheels sometimes hanging above the precipice. A traveler on this road must be experienced and completely devoted to safe, slow and obstacle-conscious driving to deter danger. To drive this road, you must have supreme confidence in your vehicle and your driving skills. Alternatively to this road, you can take the cable car straight from the city - which they claim is the longest cableway in the world with a distance of 7455 meters and a height gap of 1279 meters.