El Paso de Agua Negra (Black Water Pass) is an international high mountain pass at an elevation of 4.780m (15,682ft) above the sea level, located in the border between Argentina and Chile, linking the IV Region of Coquimbo (Chile) with the Province of San Juan (Argentina). It's one of the highest mountain roads of Chile.
The pass connects the towns of La Serena (in Chile) and San José de Jachal (in Argentina). The distance between these 2 cities is 381km. Most of them are on a gravel surface driveable with any kind of vehicle. Your wheels will be astounded at the wonderful views of the mountains spread out before you! They are terrible for drivers who are prone to vertigo. In many places the road is bordered by a drop of hundreds of meters (many hundreds of feet) unprotected by guardrails.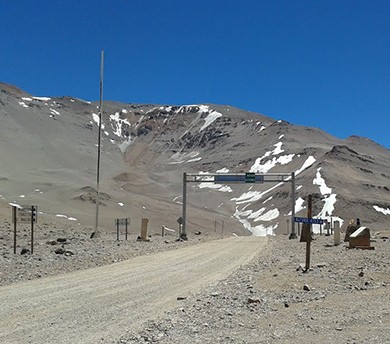 On the Chilean side the road is called Ruta 41. On the Argentinian side is called Ruta Nacional 150. It's a real challenging drive and a true test of your vehicle and your stamina because the road abounds in twists and turns with wheels sometimes hanging above the precipice. 
Because of its altitude, this pass is open only in summer (from December to April). The rest of the year is blocked by snow. Avoid driving in this area if unpaved mountain roads aren't your strong point. Stay away if you're scared of heights. It is recommended that beginner riders avoid this road.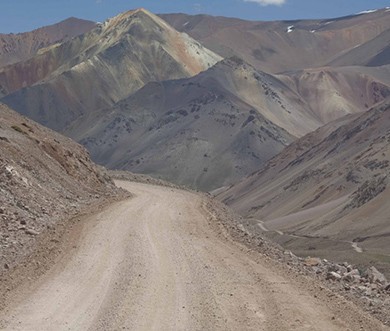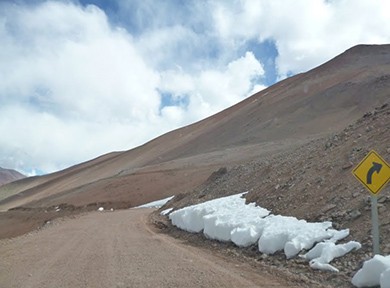 It is the highest border crossing between Argentina and Chile and the traffic is low, being used by 200 vehicles every year. The climb is simply terrible, with a notorius lack of oxygen that tests the organisms and a high degree of steepness. Most people feel altitude sickness at around 2,500-2,800 meters. Near the pass, oxygen is in short supply.
Opened in 1965, the pass was closed in 1977 because political problems between the two countries and reopened to the public in 1994. This road has humbled many egos. It's not for the sissies and shouldn't be attempted by novice drivers. Nowadays are being constructed 2 tunnels, with a total length of 14km, which will allow an inter-oceanic communication through this pass. It still remains an adrenaline-pumping journey and is definitely not for the faint of lungs, heart, or legs. Words can't describe the road and pictures don't do it justice.