Badawi Pass is a high mountain pass at an elevation of 3.523m (11,558ft) above the sea level, located in the Khyber Pakhtunkhwa province of Pakistan.
The rough road to the summit, also known as Do Teer Pass, is gravel, rocky, tippy and bumpy at times. It's called Utrar-Dir Road. The road is usually impassable from October to June (weather permitting). Be prepared, this road is not for the faint of heart or ill prepared. One mistake can have serious consequences. The pass links Upper Dir District and Utror & Kalam.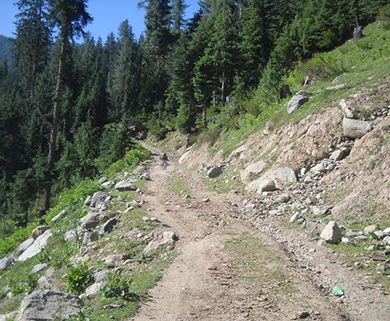 Great trail for experienced wheelers. Avoid driving in this area if unpaved mountain roads aren't your strong point. The top of the pass, marked by the two faced hill, offers scenic views of both the Swat and Dir Kohistan sides. 4x4 vehicle with high clearance required. Stay away if you're scared of heights.
Expect a trail pretty steep, with sections up to 29 percent. Drive with care as this is a mountain road with hairpin curves and dangerous dropoffs. You might want to take this into consideration if you have passengers that don't like heights.