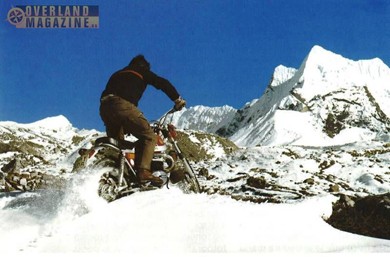 Imja Khola is a high mountain glacier on the slopes of Mount Everest, in the Nepalese Cukung Valley, at an elevation of 5.156m above the sea level.
In 1973 (7th to16th November) six Spanish riders with Bultaco Sherpa T 350 cc specifically adapted for the mission, climbed up to this glacier beating an altitude record by motorcycle. The expedition also hired 55 sherpas (35kgs each) to take all the material needed (aeronautical gas was needed due to the poor quality of the nepalese gas combined with the high compression engines).
With such a high summit altitude the climb was extremely hard due to snowfalls. The climb of the Bultaco Himalaya Expedition was simply terrible, with a notorius lack of oxygen that tests the organisms and a high degree of steepness. Most people feel altitude sickness at around 2,500-2,800 meters. It was a record that was thought unlikely to be broken as, shortly afterwards, the Nepalese Government closed the area to motorised vehicle traffic.