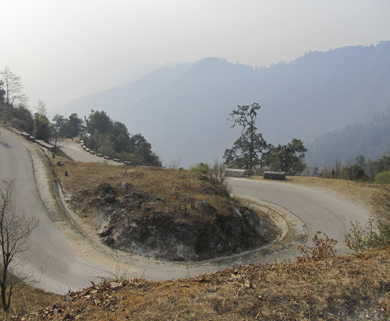 Simbhanjyang Pass is a high mountain pass at an elevation of 2.488m (8,162 ft) above the sea level, located in southern Nepal. The road is narrow and riddled with potholes. As a result, vehicles on the edge of the road lose control.
The road over the pass is asphalted. It's called Tribhuvan Highway, and is located between Kathmandu and Hetauda. This small, narrow mountain road with little traffic is the oldest of Nepal's highways, and connects the outskirts of Kathmandu with Birgunj on the Nepal-India border. Named in memory of King Tribhuvan (1906-1955), its construction was finally completed with Indian assistance in 1956 and provided the first serviceable road connection with India.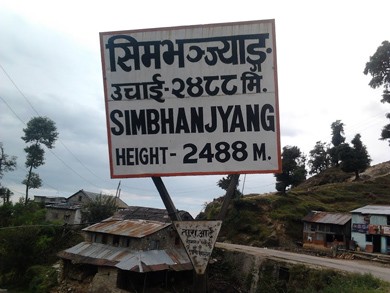 The pass is also known as Sim Bhanjyang pass. The road encompasses miles of stunning views through hundreds of twisty hair pin corners, high elevations and steep grades. At Daman, shortly before the pass, there is one of the best views of the Himalaya in all of Nepal. Travelling by passenger vehicles along the Tribhuvan Highway is fraught with risks. Apart from traffic jams, the poor condition of the road has led to several accidents along the highway.