Bedel Pass is a high mountain pass at an elevation of 3.760m above the sea level, located in the Tian Shan mountains of the Region Issyk-Kul, in Kyrgyzstan. It's one of the highest mountain roads of the country.
The road over the pass, also known as Barskoon Ashuu Pas or Söök Ashuu pass, is called A364 and links the villages of Barskoon and Kara-say.  It's gravel but in good conditions. Depending on snow conditions short-term winter locks are possible. The gravel road A364 is to ride without any major problems and with any vehicle. There are daily some heavy transports on the road for the fleet of machines. The pass is open all year round. The climb is simply terrible, with a notorius lack of oxygen that tests the organisms and a high degree of steepness. Most people feel altitude sickness at around 2,500-2,800 meters. It is now the main road leading to the Kumtor Gold mine - hence it is well maintained and there is a reasonable amount of traffic - including trucks making their way up to the mine and back.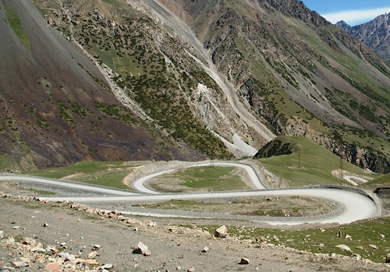 The pass was part of the Silk Road, the trade route between China and Central Asia. In the Spring of 2000 - a lorry carrying cyanide used in the gold refining process was involved in an accident - leaving the road and crashing into a stream - polluting the waters and decimating the tourist industry around Lake Issyk Kul as many CIS travelers cancelled their planned holidays.
The weather on this zone is harsh and highly unpredictable and it does not take much time for the bright sun shine to change over to moderate to heavy snow fall. There are several interesting sights along the road - including a Soviet truck mounted on a pedestal and a bust of Yuri Gagarin, who holidayed on the South shore of Issyk Kul after his historic first manned space flight.