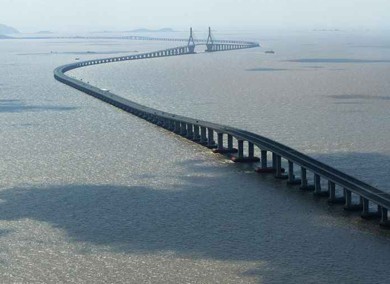 Located in the eastern coastal region of China, the Hangzhou Bay Bridge spans across the Hangzhou Bay and is one of the most spectacular bridges in the world. At 36 kilometers (23 miles) long and 14 meters (46 feet) wide, the bridge is the longest ocean-crossing bridge.
The bridge is designed as an "S" over the sea and connects Zhenjiadai, Haiyan, Jiaxing City in the north and Shuiluwan, Cixi, Ningbo City in the south in Zhejiang Province. The drive is definitely worth it. A drive not to be missed! There are many excellent photo opportunities. Don't forget your camera with lots of film/memory, fully charged batteries and an empty memory card! The guardrails are colored red, orange, yellow, green, blue, indigo, and purple every 5 kilometers. Looking at the bridge at night from far away, you may see a rainbow over the sea. In the middle of the bridge, there is a platform in the sea, Hai Tian Yi Zhou which provides a breakdown service, and also is a sightseeing platform. This platform looks like a flying eagle. There is also a 145-meter (476-foot) high tower on the platform, from which you can see the "rainbow" over the sea, as well as the Qiantang Tidal Bore and sea birds.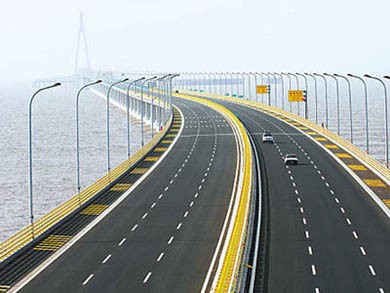 The bridge was opened to public May 1, 2008. The asphalted road over the bridge is called G15. The speed limits for the bridge are 80 km/h for the slow lane (right), and 100 km/h for the fast lane (for cars and small vehicles). There is a sightseeing platform in the middle of the bridge offering panoramic views, but stopping on the road is not permitted. Check the weather before your trip.