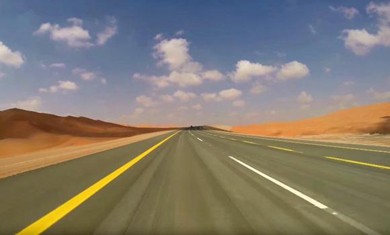 Opened in 2015, the Saudi Arabia - Oman highway directly connects both countries through the Rub' al Khali desert, also known as The Empty Quarter,  the largest and most barren sand desert in the world.
The road, which snakes through the world's largest desert, is asphalted. It's a dual-carriageway that dramatically cuts down the journey times and distances between the two countries. In Saudi Arabia, the stretch links Haradh-Batha road with Al Shiba oilfield at a length of 319 kilometres and the stretch between Al Shiba and to the Omani border is 247 kilometres. The new road cuts the distance between Saudi Arabia and Oman by about 800 km.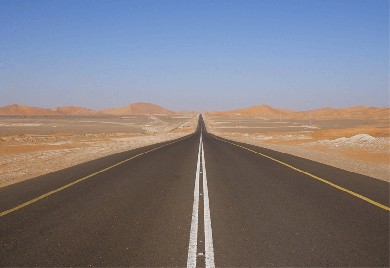 The construction was extremely hazardous. Intense heat, farness from nearest inhabited city, shifting sand dunes and harsh topography and climate, all spelt the difficulties in the construction project. The desert is characterized with steep terrain and sand dunes elevated as high as 250 meters (820ft), and this did not hinder the completion of the road construction project. Among other difficulties, the workers and machines had to cope with extreme desert temperatures, reaching 50oC degrees in the day and dropping to below 1oC at night.